September 19, 2013
Driving the Future, Without a Driver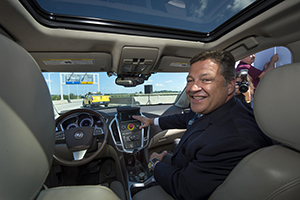 Raj Rajkumar and his research team are working to reduce the thousands of accidents, injuries and fatalities on the nation's roadways by eliminating human errors and indiscretions by taking the driver out of the driver's seat.
Earlier this month, Carnegie Mellon's conventional-looking, self-driving 2011 Cadillac SRX put on a show for transportation officials by negotiating highway traffic while safely changing lanes and merging during a 33-mile drive from Cranberry, Pa., to Pittsburgh International Airport.
Unlike some previous self-driving vehicles, including Boss, the autonomous Chevy Tahoe with which CMU won the 2007 DARPA Urban Challenge, the SRX doesn't bristle with exotic and expensive sensors. Instead, its six radars and six lidars, similar to those already in use on America's highways, are unobtrusively embedded in the car's bumpers, mirrors and body panels. Its computers are 
hidden under the cargo floor.
In addition to controlling the steering, speed and braking, the autonomous systems also detect and avoid obstacles in the road, including traffic cones and barrels, as well as pedestrians and bicyclists, pausing until they are safely out of the way. The systems provide audible warnings of obstacles and communicate vehicle status to its passengers using a human-like voice.
"The car's electronics are simply more reliable than people and will protect drivers from their own bad behavior as well as those of others, such as drinking or texting," said Rajkumar, co-director of the CMU-General Motors Autonomous Driving Collaborative Research Lab.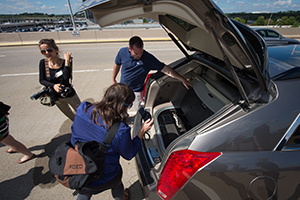 "This car is the holy grail of autonomous driving because it can do it all — from changing lanes on highways, driving in congested suburban traffic and navigating traffic lights. This car and the research team behind it are proof that Carnegie Mellon continues to be a leader on this emerging frontier," Rajkumar said.
Rajkumar suggests that self-driving vehicles will begin to be commercially available around 2020 as near-term costs as well as social and legal concerns are addressed. In the meantime, however, these technologies can be 
incorporated gradually, allowing drivers to adapt while adding safety and convenience.
Rajkumar said adaptive cruise control and lane departure warnings, already available in some cars, are examples. The next step could be on-demand autonomy, where the car takes complete control under specific scenarios, such as low-speed driving in bumper-to-bumper traffic or driving on single lane highways.
Top Photo:
U.S. Rep. Bill Shuster (R-Pa), chairman of the House Transportation and Infrastructure Committee, gets a front-seat look during a 
demonstration at Pittsburgh International 
Airport. "This is the future. It's just a win-
win-win for all of us," Shuster said.
Middle and Above:
CMU's self-driving Cadillac SRX is conventional-looking on the outside, but radars and lidars are embedded in the bumpers, mirrors and body panels, and computers are 
hidden under the cargo floor.
— by Byron Spice, bspice@cs.cmu.edu, and Chriss Swaney, swaney@andrew.cmu.edu