September 19, 2013
Service Award Winner: Anne Witchner Levin's Labor of Love Lauded by Alumni Association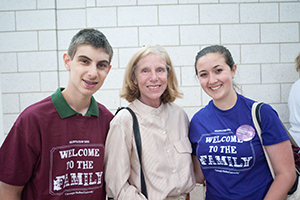 For thousands of Carnegie Mellon alumni and students, Anne Witchner Levin (DC'73) is the tie that binds. She remembers students and alumni by their first name, who they're dating and their favorite hobbies.  She even remembers the time and place of their violin recital.
A loyal, dedicated and selfless staff member for more than 35 years, Levin's love for the university and her tireless efforts to enhance student life and connect students with alumni are being recognized this fall with an Alumni Association Service Award.
The award, which recognizes "service to the university or any of its alumni organizations with continued effort in expanding the influence and prestige of CMU," will be presented to Levin during the Alumni Awards ceremony beginning at 5 p.m., Friday, Sept. 27 in the College of Fine Arts' Kresge Theatre.  The ceremony is part of CMU's Cèilidh Weekend, Sept. 26-29.
"It [Carnegie Mellon] is a special place with ordinary, down to earth students, faculty, staff and alumni who are capable of doing extraordinary things," Levin said. "It has been exciting for me, during all my years in Student Activities and now as director of Orientation and First-Year Programs, to work with the 'crème of the crème of the crop.' It has been rewarding to mentor, learn from, advise, inspire and be inspired by students who want to make a difference."
Levin, an assistant dean of Student Affairs, has played a prominent role at CMU since joining the university in 1977.  In addition to the orientation program for incoming first-year students, she's been among the chief organizers of several major university events, including Family Weekend, the Madrigal Dinner, Martin Luther King, Jr. Day and Spring Carnival.
"She has brought a richness and depth to our student activities, in particular the orientation and family weekend programs that are heavily influenced by her commitment and connections as an alumna," wrote Rebecca Allison (BHA'96, HNZ'01), who nominated Levin for the award. "She has dedicated her life's work to making her alma mater a world-class institution where students and families feel welcomed and connected.
"The National Association for Student Activities and the National Orientation Director's Association has specifically recognized Carnegie Mellon's outstanding orientation program under Anne's leadership," Allison added.
As part of the weeklong orientation program, which helps students transition to college life and Pittsburgh, Levin instituted the "Last Lecture" program. Copies of the book, "The Last Lecture" by the late Randy Pausch and Jeffrey Zaslow, are mailed to incoming first-year students during the summer and they engage in small-group discussions facilitated by faculty and staff during orientation.
Levin believes the book gives students insight into the CMU culture and life in general, and the discussion with fellow classmates, which is facilitated by a faculty or staff member, enables them to relieve some of the inhibitions they're feeling as new members to the university community. "Every year before orientation, I hear from several new students and parents about how happy they are to receive the book," Levin said. "The messages of the book resonate with our students. The book is accessible and there is the CMU connection that is obvious."
Levin, who held the first Madrigal Dinner in the mid '80s, revived the event in 2007 after hearing from other alumni that there was interest in bringing it back. Levin said her favorite part of the Madrigal Diner "is seeing the event come to life – the decorations, the costumes, the entertainment, the food, the music, the singing and the response of the audience who every year appear to enjoy and appreciate the program.
"It is worthwhile to guide and offer a core group of students an opportunity to help create, plan, promote and produce something that is unique and successful," she added.
Levin also is an avid supporter of Spring Carnival.  For many years, she and her staff were the advisers to both the Carnival and Sweepstakes committees. She also was responsible for forming the Sweepstakes Alumni Committee to help provide guidance and advice.
"As an alumna, she recognizes the historical and cultural relevance of this event [Carnival] for our university and has been a champion of it even when there have been challenges and changes over the years," Allison said.
"She had a unique way of both nurturing us and allowing (and empowering) us to lead; a skill that makes her an ideal person to work with students who are finding their way as new adults," said CMU alumna Christa Houser (BHA'97, TPR'99).
In support of her nomination, 2004 graduate Jennifer Cerully praised Levin for her consistent support and dedication.
"Her greatest service is not through the performance of a discrete task or role, but rather in the accumulation of the many years of small services — for example, engaging students and alumni and connecting them with each other — that she has provided to thousands of students and alumni over the years," Cerully said.
This past April, Levin was featured in "Her Campus," an online publication for college women that feature such national topics as style, health, life, love and career.
"She is the unsuspecting doctorate, the one who runs a marathon just because, and the one who seems to hold the entire university of Carnegie Mellon … in the palm of her hand," wrote Veronica Kawka, a journalist for Her Campus.
Perhaps William Thomas Wood II (E'74) said it best, when he wrote, "Clearly Anne is one of the unsung heroes of the university."
Until now, that is.

Above:
Anne Witchner Levin (DC'73) takes a break during freshman move-in day to pose with her 16-year-old son, David Levin, who was lending Mom a hand, and Head Orientation Counselor Christine Sidoti.
Read more about Cèilidh Weekend.

— by Stephanie Williams, saw@andrew.cmu.edu