October 23, 2013
Women's Association Welcomes First Lady Mary Suresh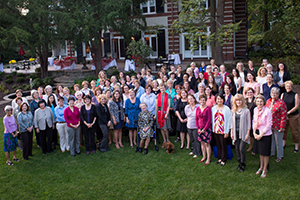 Carnegie Mellon First Lady Mary Suresh recently hosted the Carnegie Mellon Women's Association (CMWA) Fall reception at the president's residence. The association gave the new first lady a housewarming gift of a vase and the event raised more than $1,600 for the CMWA Scholarship Fund.
Since 1916, the CMWA has connected women across campus. Membership is open to all women faculty and staff, or spouses/partners of faculty and staff and friends. Dues are $10 annually, which go directly toward the CMWA's annual scholarship awards fund.
Upcoming activities include an Evening at the Phipps Conservatory and reception on Dec. 6, a Carnegie Mellon Steam Tunnel Adventure in January and a Mardi Gras lunch.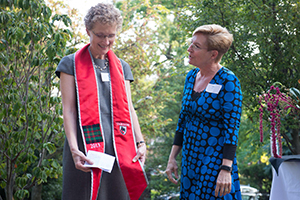 For a full list of the association's events and activities and for more information on joining, visit www.cmu.edu/cmwa.

The Carnegie Mellon Women's Association drew a large crowd for its annual fall reception at the president's residence last month.

Mary Suresh, CMU's first lady, was recognized as the honorary president of the CMWA and was presented with a sash to commemorate her new role. Presenting the sash was CMWA President Pattye Stragar.