October 23, 2013
Staff Achievements Recognized at 19th Annual Andy Awards
By Stephanie Williams saw1(through)andrew.cmu.edu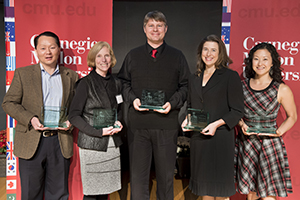 Winners of the 19th annual Andy Awards, the university-wide recognition program that honors staff for their out-standing performance, commitment and positive impact on the university, were announced Oct. 10 by President Subra Suresh and Provost Mark Kamlet before a standing-room-only crowd in McConomy Auditorium.
In opening remarks President Suresh and Provost Kamlet congratulated the nominees and stressed how critical staff members are to the success of the university.
And the winners are:
Outstanding University Citizenship:
Romayne Botti
Romayne Botti has played a pivotal role in the College of Engineering's global presence.  
Botti, CIT's associate dean for Finance and Operations, has worked tirelessly on CIT expansions in Rwanda, India and China, said CIT Dean James H. Garrett Jr.
"Romayne's commitment to these programs has been essential to them becoming a reality," Garrett said.
Each country offers a distinct program with its own opportunities and challenges, and Botti worked across university and international boundaries to help make them happen.
Bruce Krogh, director of CMU-Rwanda, said she does her job with courtesy and professionalism. He calls her the go-to person for answers and advice.
"I have seen firsthand how Romayne has the ability to pull together individuals and groups from across the university to get things done," he said. "Romayne has been the single most important person who has made it all work for CMU-Rwanda."
Botti also was an organizer for overseeing operations at the Silicon Valley campus and has collaborated with university leadership to maintain the college's goals and priorities.
Outside of CIT, Garrett said she shares best practices with colleagues.
"[She] has been a thoughtful contributor to improving financial operations across the university," he said.
Outstanding Innovation:
The Tepper School of Business Marketing Team: team leader Deb Lantz (DC'06), Stephanie Armbruster (A'06), Karen Boucher, Mark Burd, Barbara Donehue, Susan Limoncelli, Joseph Mancuso and Martha Sproul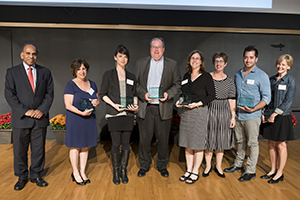 Blazing a new pathway for digital publications while capitalizing on the latest in communications technology, the innovative marketing team at the Tepper School of Business has created a new interactive format for the school's alumni magazine that connects readers through iPad tablets and browsers.
Much more than just a PDF of the regular print content, this digital version is the first-of-its-kind among alumni magazines, offering additional content and functionality that enhances the reader's experience.
 "This has been truly an 'all hands on deck' project that created an innovative, forward-thinking vehicle to take the magazine to the next level," said Janice French, assistant director of Alumni Relations for the Tepper School. "In a time when we are trying to find new ways to connect with our alumni, stay relevant and to keep the school's world-class research and news on our alumni's radar, this was a great innovation."
The app takes advantage of its interactive format and provides animated charts and graphics, faculty interviews, links to faculty research, videos, slideshows and article sharing.
"It completely breathed new life into our traditional alumni magazine," said John Sengenberger, executive director of Alumni Relations for Tepper. "With their creativity and imagination, they found innovative solutions to show our alumni stories and not just tell our alumni stories.
"Alumni are both amazed and excited about the amplified magazine and are eager and willing to share it with their former classmates."
Outstanding Dedication:
Anne Witchner Levin (DC'73)
For 35 years students have come to know Anne Witchner Levin and her hands-on commitment to CMU.
The assistant dean of Student Affairs and director of Orientation and First-Year programs has devoted time and energy in making students, alumni, faculty and other staff members feel significant, understood and valued.
"Anne's stellar programming performance over the years has mainly been due to her dedication to detail, her strong organizational skills and her ability to get disparate elements of the university to work together," said Joseph Rudman, scientific project administrator for the Physics Department.
Levin has been a part of many successful organizations and events, including Spring Carnival, Sweepstakes, Martin Luther King Jr. Day and Cèilidh Weekend.
Everett Tademy, assistant vice president of Diversity and Equal Opportunity Services, said that she extolls the importance of a well-rounded education.
"I know firsthand that she believes that we should be there for our students inside the classroom as well as outside," Tademy said. "Through sustained Carnegie Mellon service and outstanding dedication, Anne has demonstrated that she is an active and engaged member of our university who continues to strive, both through her programming of undergraduate activity and advising role, to make us an even better institution."
Levin recently was recognized with an Alumni Association Service Award.
Outstanding Culture:
Samuel Boyer
Samuel Boyer believes building a diverse workforce can lead to long-term success for an organization.
In just more than five years at CMU, the senior director of CIT's Organizational Development has helped shape CIT's culture through creating and managing learning and development programs, creating staff appreciation events, and designing and facilitating staff retreats. He also serves as a sounding board and adviser for individuals.
 "Sam always has his radar up identifying individuals who exemplify the characteristics of passion, perfection and persistence with the mission of staffing the college and university with exceptional talent committed to the successful achievement of organizational goals," said Donna Marano, CIT's director of Finance and Administration. "He is passionate about what he does, believes in this institution and is committed to staff success, not just his own."
CIT Dean James Garrett said Boyer's commitment to providing staff with opportunities to grow has built a sense of community throughout the college and creates an environment in which staff feel vital, integral and recognized for their contributions.
"Sam is passionate about providing staff with opportunities to grow their skills in an effort to retain and recruit high-performing staff members," he said.
Outstanding Community Contributions:
Jeffrey Harris
When it comes to ensuring a safe workplace, few people are as enthusiastic as Jeffrey Harris. Whether it's responding to chemical spills, handling noxious odors or offering training, the chemical safety specialist takes an optimistic approach to problems and developing creative solutions.  
"Jeff Harris is the star in our department when it comes to amazing our customers with quick and helpful actions. Jeff has a good day when he is able to help someone, and every day is a good day," said Madelyn Miller, director of Environmental Health & Safety.
Harris, who recently served as Staff Council president, is responsible for the hazardous waste management program, fume hood testing and maintenance, and providing chemical safety training for about 900 undergraduates, graduate students, faculty and staff annually.
Karen Stump, a teaching professor and director of Undergraduate Studies and Laboratories in Chemistry, called Harris a key partner to her program.
"It is a joy to work with a person like Jeffrey who despite the nature of his job is always not only respectful but also friendly and upbeat," she said. "I can very honestly say that I have never seen him without a smile on his face."
Outstanding Commitment to Students:
Helen Wang (DC'99)
Helen Wang, director of First-Year Student Life, has touched the lives of many students through programming initiatives and personal connections.
Renee Camerlengo, assistant dean of Student Affairs, called Wang a campus treasure.
"She sits in a unique position as a graduate of Carnegie Mellon and also a student affairs professional," Camerlengo said. "It allows her a window into connecting to our students and to an understanding of her role in student affairs."
Students who visit her office remember the way she made them feel.
"Helen seeks and thrives on building relationships, on getting to know the heart of a person, and on pulling those unique gifts and talents forward," said Chelsea Vincent (A'10).
For the past seven years, Wang has looked for ways to help students see their potential. Her most recent role was serving as Fulbright adviser.
Stephanie Wallach, assistant vice provost for undergraduate education, said it quickly became clear that Wang would have an impact.
"When we held a Fulbright session in the dorms one evening, it drew a big crowd. They were all students who Helen had connected with and who she knew personally. We met many students who would not normally find their way into our office."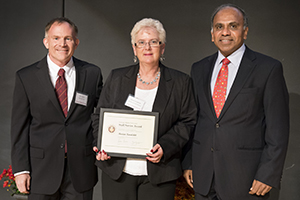 (Starting from the top) From left: Samuel Boyer, Anne Witchner Levin, Jeffrey Harris, Romayne Botti and Helen Wang are among this year's Andy Award winners.

President Suresh poses with The Tepper School of Business marketing team, which was recognized for outstanding innovation. Team members are (L-R): Martha Sproul, Stephanie Armbruster, Mark Burd, Barbara Donehue, Deb Lantz, Joseph Mancuso and Karen Boucher. Not pictured is Susan Limoncelli.
Staff Council President John Lanyon, left, and CMU President Subra Suresh congratulate Marian Kovalchik on 40 years of service. To see the full list of this year's Staff Service Award winners with 30 years or more at CMU, visit www.cmu.edu/andyawards.