May 13, 2013
Thank You!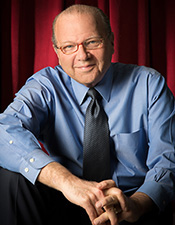 Thank You!
As I approach the end of my 16 years as president of Carnegie Mellon, I write to thank you, the university community, for giving me the privilege of serving in this position and for your support over these many years.

It truly is a privilege to be the president of CMU. Globally regarded as one of the best universities in the world, Carnegie Mellon's president is respected simply for having the title.

True story: Being the modest person that I am, I almost never tell strangers what my position is; it sounds to me too much like bragging. But, I make an exception whenever I go through Passport Control at airports (which is often). The conversation usually goes:

Immigration Agent (looking at my form): "I see you traveled on business. What was the nature of your business?"
Me: "I was visiting our alumni and academic programs. I am the President of Carnegie Mellon University."
Agent: "Oh! That's a great school. Welcome home!"

The university has made progress in many ways during my time here. Inevitably, the growth and innovations of the last 16 years will be associated with the "Cohon Era." I cringe when I hear people use the term because all of the great things that have happened here have been the result of your superb efforts, not mine. Our reputation and impact are the result of the brilliance, creativity, hard work and devotion of the 18,000 faculty, staff and students and the accomplishments of the more than 92,000 alumni who comprise the Carnegie Mellon community. Even after 16 years, I am still amazed by the pathbreaking research you do, and thrilled by the art you create and perform. And, I am enormously proud of the rich educational experiences you provide and our contributions to our communities. I am proud, too, of our collaborative, can-do culture in which each of us feels respected and supported.

Of the thousands of people who have contributed to our success, I must single out the deans and directors for their excellent leadership of our colleges and non-academic units. We purposefully operate in a decentralized manner, putting resources and authority in the hands of these key people. I like to think that CMU is more than the sum of its parts, but the parts have to be excellent if the whole is to be.

I have had the great good fortune to work every day, closely and collaboratively, with the Management Team: Mark Kamlet, Executive Vice President and Provost; Vice President and General Counsel Mary Jo Dively; Cheri Hays, Secretary of the Board of Trustees and Director of the President's Office; Vice President of University Advancement Robbee Kosak; and, Vice President for Campus Affairs Michael Murphy. They are a wonderful group and the best at what they do that Carnegie Mellon has ever seen. The six of us are supported by a terrific group of assistants - my thanks to the 6th Floor Crew and, for my personal sanity, Cathy Light, who has gone to amazing lengths to keep me on time and out of trouble.

Being the leader of this outstanding community has been an enormous honor. My wife, Maureen, who has been a great "First Lady" and my life partner, joins me in saying THANK YOU and in wishing you all the best.

Jared L. Cohon