May 13, 2013
"Big Brain Theory"
Robotics Grad Student Competes on Discovery Channel Show
By Byron Spice bspice(through)andrew.cmu.edu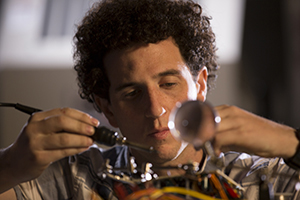 It was mid-October, the first day of filming for Discovery's new reality show, "Big Brain Theory: Pure Genius," and Eric Whitman and his fellow contestants were standing in a California desert, not sure what to expect.
Like the other nine competitors, Whitman, a fifth-year Ph.D. student in robotics, had answered an ad seeking people who liked to design and build things. But the producers didn't share a lot of details in advance, and he worried that the challenges would turn out to be rinky-dink, Tinkertoy-like stuff.
"So there we are on the first day, and the first thing we see is two pickup trucks have a head-on collision, with flames shooting out," Whitman recalled. "And we all said to each other, 'They're serious about this.'"
For seven weeks, Whitman and the others lived as a group in a converted warehouse in Burbank, Calif., but spent most of their waking hours working on one challenge after another for the series, which premiered May 1 on Discovery Channel.
Cameras followed the competitors for 12-16 hours every day - with a half day off for Thanksgiving - as they undertook technical challenges, such as stopping explosives from detonating when two pickups smack each other head-on; building a portable bunker that can withstand fire, high-pressure water and jet engine exhaust; and constructing a robot to compete in athletic events.
"Given a year, these challenges would be easy," Whitman said. "But given three days, with a limited budget and limited time to design, source parts and build, it was tough."
For each of the eight challenges, the contestants were given 30 minutes to come up with a solution. An expert panel of judges chose two people with the best plans, who became team captains and chose up sides from the remaining players, "the same way as middle school dodgeball," Whitman said.
Each week, a player was eliminated from contention for the show's $50,000 prize, but all of the players continued to participate in each new challenge.
Whitman, a New Jersey native who earned a bachelor's degree in mechanical and aerospace engineering at Princeton University before coming to the Robotics Institute for graduate school, admits some trepidation about how he will appear.
"All of these contestants were brilliant people," he explained. But most had particular engineering or technical areas of expertise. As a roboticist, Whitman drew upon a wider range of skills, which made him valuable as a generalist on the teams. The downside, he noted, is that he often ended up working in areas where he claims no special expertise. "My fear is that I will end up looking like a mediocre electrical engineer, rather than a really good generalist," he said.
At Carnegie Mellon, Whitman concentrates on developing software for a Sarcos humanoid robot in the lab of his adviser, Chris Atkeson, professor of robotics. So spending seven solid weeks building stuff was a welcome diversion, as were experiences such as sharing a peanut-butter-and-jelly sandwich with host Kal Penn of "Harold & Kumar" fame.
"I had so much fun I'd do it again, no question, if I could," Whitman said.