May 13, 2013
A Creative Mind in Cannes
Student Casts Heinz College Presence at International Film Festival
By Abby Simmons abbysimmons(through)cmu.edu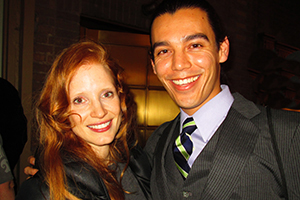 Glittering lights, red carpet, movie stars and lavish parties in the French Riviera - fledgling filmmaker Taylor Grabowsky will be living a dream at the prestigious Cannes International Film Festival (May 15-26), where his first short film "Donor Heart" will premiere as part of the Cannes Court Metrage, or "Short Film Corner."
In addition to his movie screening, Grabowsky (A'06, HNZ'14) is the first Heinz College Master of Entertainment Industry Management (MEIM) student to participate in the Creative Minds in Cannes program's Filmmaker Institute.
"I feel blessed to have these opportunities, and over-the-moon in many ways to have my first short film go to the Cannes International Film Festival," Grabowsky said.
Grabowsky made a connection with the Filmmaker Institute with help from Maureen May, the Heinz College's associate director for career services. His efforts helped establish a formal partnership between the university and institute.
May worked with MEIM Program Director Daniel Green to secure funding from the Heinz College Career Services Office and the MEIM program to cover the cost of attendance for a student each year through a competitive application process.
"This is an incredible opportunity for Taylor and future MEIM students to make an early impact among elite Hollywood and international filmmakers," May said.
Grabowsky will be part of a group of filmmakers given seven days to produce a five-minute film, which will be judged by a panel of industry professionals. In addition, he will attend networking events, workshops and Cinema Master Classes hosted by industry icons such as Quentin Tarantino and Martin Scorsese.
Participants also are invited to complete an internship at Campus Movie-Fest, a Los Angeles-based collegiate film competition set for June 20-22.
The Filmmaker Institute expands on opportunities for MEIM students at Cannes.
The Heinz College began sending students to another program, the American Pavilion, last year. Students work for U.S. film companies such as Fox Studios, Paramount Pictures, DreamWorks Studios and The Weinstein Company or agencies including ICM Partners, William Morris Endeavor and United Talent Agency. This year's representatives are Katelyn O'Leary (HNZ'14), Divya Joseph (HNZ'14) and Jingya Liu (HNZ'14).
Attending festivals has become an instrumental part of the MEIM curriculum. All first-year students attend South by Southwest in Austin, Texas, and second-year students attend the Sundance Film Festival in Park City, Utah.
"Students who attend these festivals come to understand the real-world
application of film acquisition and distribution in a way that isn't possible by simply learning about it in the classroom," Green said.
While building the Heinz College/ Continued on page twelve Filmmaker Institute partnership, Grabowsky learned that he could obtain a filmmaker accreditation by earning a spot at the Cannes Court Métrage, which offers a higher level of access to screenings and networking events at the festival.
Working with CMU's graduate and undergraduate film clubs, Grabowsky wrote, directed and produced "Donor Heart" in less than two weeks this spring.
"It's a visual narrative, and the message has to do with self-sacrifice for the sake of another," Grabowsky said.
His inspiration for the film came from a prompt for submissions to the Pittsburgh-based Center for Organ Recovery and Education's "A Pledge for Life" Film Festival, which will be held in June to "entertain, enlighten and inspire" viewers to become a registered organ donor.
The filmmaker relied on his CMU connections and friends to help cast parts. Steven Robertson (A'15) stars as a man on the street whose lifeblood is his ukulele. Upon meeting and befriending an eight-year-old boy, Owen Stout, their fortunes change in the act of giving.
"Taylor is an ambitious, smart individual who I'm proud to have in the MEIM program," Green said. "He also happens to be a nice guy who cares about the well-being of his peers and wants to help ensure the success of others. That attitude may partly explain the appeal of his short film. It has a timeless message about hope that resonated with the judges."
Grabowksy also recently accepted a summer internship with CBS Films in Los Angeles.
Like all MEIM students, he will spend his second year in Los Angeles. May said Grabowsky's experience at Cannes would give him a jumpstart on building a contact list that reads like a "Who's Who" in the entertainment industry.

Taylor Grabowsky met Oscar-nominated actress Jessica Chastain at a Master of Entertainment Industry Management "Network New York" event earlier this school year.