March 13, 2013
Welcome Suresh Family!
By Heidi Opdyke opdyke(through)andrew.cmu.edu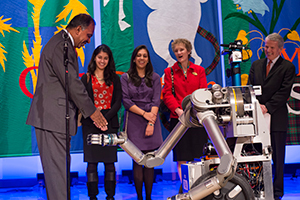 During his first official visit to Carnegie Mellon's Pittsburgh campus, Carnegie Mellon President-elect Subra Suresh remarked that "there's something magical about this place."
"I very much look forward to interacting with this community that I've admired from afar for a very long time," he said.
The university community welcomed Suresh, his wife, Mary, and their daughters Nina and Meera during an event Feb. 21. Suresh, director of the National Science Foundation since 2010, will take office on July 1, succeeding Jared L. Cohon who is stepping down.
Cohon said that the day was the beginning of the transition in some sense.
"I'm a lame duck, but not a dead duck," he said. "I still have four months or so left. Subra has made it very clear as soon as he is done with the NSF in late March, he's going to be very eager to dig into the process of getting to know us and being prepared to take up his presidency.
"We are a very welcoming community. I experienced that in the beginning, 16 years ago, until today. And I know that you will welcome the Sureshes in the way that you did Maureen and me."
Ray Lane, chair of CMU's Board of Trustees, commented on the longevity of Suresh's predecessors.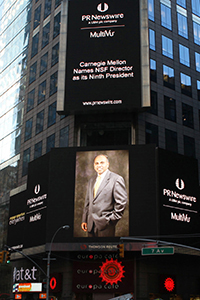 "It's really remarkable that the university is now 113 years old, and in that time we've had eight presidents. I think that speaks to the quality, I think that speaks to the thoroughness, I think that speaks to the depth of an institution when you have leadership that sustains that long of periods," Lane said.
"I told Jerry he is now about to enter into an era. How we will talk about this as the Cohon era, as he has talked about the Mehrabian era or the Cyert era.
"I think Jerry understands more than anybody - except Mehrabian - how much we love and respect his leadership of the university over the last 16 years," Lane said. "It has been a real love affair."
Lane then turned to the future. He said that Suresh's achievements have been impressive. Leading the NSF for the past couple of years, Suresh managed a budget of $7 billion during "a really strange time in our government."
"A good, good friend of mine, Chuck Vest, a former president of MIT [the Massachusetts Institute of Technology], said he was the best leader in Washington. It really meant a lot to hear him say that to me," he said.
Suresh, who was the dean of engineering at MIT and previously worked at Brown University, also will hold the distinction of being one of just a handful of presidents in the Association of American Universities, which consists of leading research universities in the U.S. and Canada, who is a member of the National Academy of Sciences and the National Academy of Engineering.
What impressed Lane the most, he said, was his thoroughness. Lane said he and Suresh had the opportunity to spend time together during the World Economic Forum in Davos, Switzerland, in January.
 "It impressed me a lot to spend three days getting questions about how you could become part of this community, whether you could make an impact, and whether this could be your last great assignment to take an institution as great as CMU to the next level. And you wanted to be sure, really sure, that you could do this."
Student Body President Will Weiner said that as a tour guide for admissions, he often tells visiting potential students and parents that President Cohon will be leaving this summer but hasn't been able to tell them who the next president will be.
"I'm very excited now to be able to tell people that Dr. Subra Suresh, the chair of the NSF, is going to be our next president," Weiner said. "The families really perk up when they hear that."
An outpouring of global support during the event, which included video greetings from CMU locations around the world, prompted Suresh to remark that "the sun never sets on Carnegie Mellon."
In his inaugural speech, Suresh drew connections between his own journey and that of Andrew Carnegie. Suresh first came from India to the U.S. in 1977 to pursue graduate studies at Iowa State University. He described having borrowed money for a one-way plane ticket with less than $100 in his pocket.
"He symbolizes the American dream in many ways," he said. "And on a much smaller scale, I can say I have experienced that same spirit of the American dream."
Suresh will be the second person to serve as both head of Carnegie Mellon and the NSF. H. Guyford Stever, who served as CMU's leader from 1965 through 1972, left after being named director of the NSF, where he worked until 1976.
Suresh said he and his wife would be moving to Pittsburgh at the end of June. His first order of business will be to go on a listening tour when he arrives on campus.
President Cohon offered an initial bit of advice on being president including never to joke about the Steelers and helped Suresh get off on the right foot by introducing him to HERB, the Home Exploring Robot Butler, who is a research project at the Quality of Life Technology Center.
CMU's mascot, Scotty, offered football jerseys to Cohon and Suresh with their names and the numbers 8 and 9, respectively, signifying their place in history as CMU's eighth and ninth presidents.
Suresh said that his relationship with Carnegie Mellon started in the early 1980s, and he has worked with a number of faculty, alumni and students.
"The values that underlie the culture of this place are values that are important with me and resonate with my own values," he said.
Suresh praised Cohon and said that they have worked together in the past on visiting committees for each other.
"The university is in such wonderful shape, I am so fortunate to be taking the reins of this university that has been led so marvelously by Jerry. So I wanted to take a few moments to offer my sincere thanks to Jared and Maureen Cohon. Thank you very much," Suresh said.
HERB, a CMU robot, greets President-elect Subra Suresh during a reception welcoming him and his family to the Pittsburgh campus. Looking on are his daughters, Meera and Nina, his wife, Mary, and CMU Chairman of the Board Ray Lane.