March 12, 2013
"The Foreigner"
Exhibit Promotes Cultural Exchange Between Cleveland, Iran
By Pam Wigley pwigley(through)andrew.cmu.edu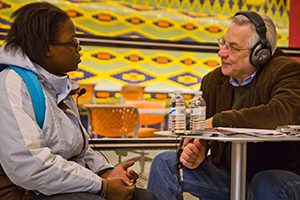 School of Art Professor Jon Rubin and MFA 2013 Candidate Felipe Castelblanco have created an exhibition at the SPACES gallery in Cleveland that puts local residents in the shoes of Iranian citizens through simple mobile technology.
Cleveland residents who participate in the project will serve as real-time avatars for Iranian citizens, helping to promote exchange among these very different cultures.
It works this way: A Cleveland resident wears an earpiece through which an Iranian counterpart directs live instructions on what to do and say during a walk through various public spaces. The Iranian citizens and Cleveland avatars have been selected from all walks of life - from children to seniors -so it's possible for a local teenage girl to be the avatar for a 53-year-old Iranian woman or a 9-year-old Iranian girl can speak through a 60-year-old Cleveland man.
The goal is to help people in the United States learn about someone living in an entirely different culture, and the experience is happening in real time.
"'The Foreigner' presents an uncanny circumstance where the separation between self and other, local and foreign, is collapsed and confused, and the geopolitical distance between the United States and Iran is made personal and local," Rubin said in describing the exhibition.
The public can witness the unique cultural exchange through April 6 at Tower City Center, 230 W. Huron Road, in Cleveland. A schedule is available at www.spacesgallery.org/project/the-foreigner#.
At right, Walter Mahovilch, a 60-year-old Clevelander, is serving as a human avatar for Mahlab, a 9-year-old girl living in Iran. People met and spoke to Mahlab (not pictured) as she directed Mahovilch in what to say and do.