March 13, 2013
Legendary Filmmaker
Tull Living His Dreams at the Movies
By Bruce Gerson bg02(through)andrew.cmu.edu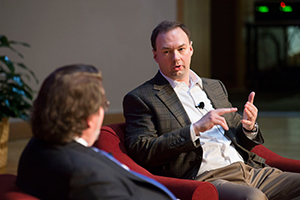 Thomas Tull loved watching movies as a child. Today he loves making them.
Tull, founder, chairman and CEO of Legendary Entertainment and a Carnegie Mellon trustee, spoke about living his dream at Carnegie Mellon's Innovators Forum, March 5.
"I feel like the luckiest guy on the planet," Tull said. "I just love to sit down and watch a movie, you're taking that journey. The lights go down and anything can happen."
And he's made it happen at Legendary Entertainment, producing such blockbuster hits as "Dark Knight Rises," "Inception" and "The Hangover" (parts I and II).
He said he approaches each movie like a startup company, balancing the creative idea with the financials.
Tull's CMU connection isn't his only Pittsburgh tie. Raised in Binghamton, N.Y., he grew up a Steelers fan.
In 2006, he came to Pittsburgh for Legendary's screening of "We Are Marshall," which chronicled Marshall University's attempt to rebuild its football program after team members were tragically killed in a plane crash in 1970.  
At the screening he met the Rooney family, owner of the Steelers. When the Rooneys were looking to form a Steelers ownership group in 2009, Tull said he was thrilled to be invited to join the team as a minority investor. He flies from L.A. to Pittsburgh for home games, living out another childhood passion.
"Work hard, put yourself out there and don't be afraid to fail," he said. "Regardless of your passions, don't put yourself in a box and say that's beyond my reach. You can do anything."
Thomas Tull, founder, chairman and CEO of Legendary Entertainment and Carnegie Mellon trustee, chats with Provost and Executive Vice President Mark Kamlet as part of the Innovators Forum speaker series.