March 13, 2013
Giving Back
ACS Scholars Provide Gifts to Seven Projects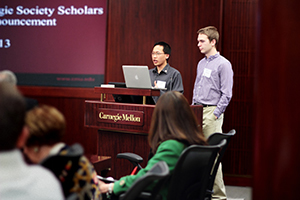 Andrew Carnegie Society Scholars (ACS) are giving back.

The 40 seniors in the program are chosen by deans and department heads to represent their colleges in service and leadership. Throughout the fall and early spring, ACS Scholars participate in a series of small gatherings and events to learn more about philanthropy. Events range from learning about the university finances and reading Andrew Carnegie's "Gospel of Wealth," to meeting alumni donors and learning about how they support the university.

"During the academic year, the ACS Scholars meet with the board members and other volunteers to exchange viewpoints about giving," said Kathleen Bonte, director for Leadership Annual Giving and a staff liaison to the Andrew Carnegie Society Board. "The conversations help inform the ACS Scholars when they begin their own group discussions, and as they review the student organization grant proposals."

As part of the program the group of students has distributed $8,000 to university organizations through a grant process. They worked together to review proposals requesting financial support. Bonte said it was the first time many of the students had served on a philanthropic granting board.

Andre Sutanto, a senior in engineering, said he appreciated the opportunity and came away with an important life lesson.

"Given the limited resources that we have, we have to look into our original objectives. In which way would we want our impact to be felt most? This process made me think about where and how I would want to leave my mark in the Carnegie Mellon University community and in the world in general," he said.

Grants were awarded to the following organizations in mid-February:
1000Plus
CMU International Justice Mission/Amnesty International/CMU UNICEF
CMU Juntos
CMU Aquatics Submarine Team (AIAA CMU Chapter)
Filmmaking Club
Project Healthy Lifestyles
TEDxCMU
For more information on the program, visit www.cmu.edu/andrewcarnegiesociety.

College of Engineering seniors Andre Sutanto and Neil Abcouwer announce this year's winners of the 2013 ACS Scholars' grants during a lunch with university deans in early February.