March 12, 2013
Artistic Alumna Personifies CMU's Interdisciplinary Culture
By Stephanie Williams saw1(through)andrew.cmu.edu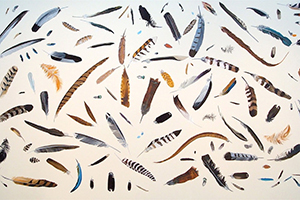 While birds of a feather may flock together, artist Missy Hammond Dunaway (BHA'10) draws inspiration from talking to engineers or studying Shakespeare.
Her interdisciplinary nature can be seen in a series of her paintings focusing on feathers - the largest of which, "Pictorial Encyclopedia of Shakespearean Birds," was recently acquired by The Folger Shakespeare Library in Washington, D.C.
Dunaway has truly distinguished herself in the difficult world of painting.
"I try to look outside of myself for ideas because, honestly, there are things in the world more interesting than artists. I read a lot, usually favoring Arthurian romances, National Geographic and the news, and I like to travel and be outdoors."
She recently shared her portfolio with her CMU mentor, Scott Sandage, associate professor of history.
"I was blown away. It's hard to describe how cool and provocative her painting was," Sandage said. "She is naturally a quiet person, more of a listener than a talker. But she quietly goes about following her intuitions and passions in a way that I personally find inspiring."
Deciding on a college path can be difficult for some, but Dunaway knew she wanted an interdisciplinary degree. She knew right away the Bachelor of Humanities and Arts program was right for her.
"I wanted to receive an education that prepared me for a career in the arts, but I was concerned that attending an art school would limit my education," said Dunaway who earned degrees in painting and material & visual culture. "I was sold when I learned that Carnegie Mellon not only allows, but encourages students to take courses in different disciplines."
She continued, "The BHA program is a true gem, both within the Carnegie Mellon community and the collegiate community at large. It amazes me that the program is so unique, because it is built upon a concept that is so natural. I was lucky to find a school that understands this and didn't force me to compartmentalize my interests."
Classes on Shakespeare's romances and comedies, Medieval literature and Arthurian legends, and Chaucer sparked her imagination.
"The writers wrap history lessons, political science theories, philosophy and cultural studies into stories that are thoroughly entertaining. I was so impressed by how multi-faceted these works of literature were. I tried my best to accomplish the same thing in my own art," Dunaway said.
Careful observation is the key to a great painting, and studying colors and textures are some of the many ways Dunaway assesses her work. History and culture also play a big role in making her art speak. A kind of "intellectual significance" is the theme behind her subject matter.
"I use art as a tool to learn about subjects that interest me, and I approach my paintings like research projects," she said.
Her interest in reaching outside of her comfort zone extends beyond the classroom.
"I lived in the dorms all four years I was in college. I could never find more than one other art student on my floor, and as a result, my best friends from Carnegie Mellon are engineers and economists," Dunaway said. "Those friends always provided fresh conversations and different perspectives I could never arrive at on my own."
Formerly of Annapolis, Md., and born in Honolulu, Dunaway now lives in Brooklyn, N.Y., where she works for Gurr Johns, an art appraisal and advisory firm in Manhattan. She recently was named a Fulbright finalist.
Online:
Find out more about Missy Hammond Dunaway and her artwork online at
http://artistmhdunaway.wordpress.com/
.