March 12, 2013
Cataloguing Greatness: Dietrich College Celebrates Humanities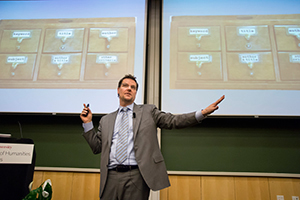 Carnegie Mellon has bolstered its standing in the humanities thanks to distinguished faculty and support from numerous foundations, corporations and individuals.
In February, the Dietrich College of Humanities and Social Sciences and the Center for the Arts in Society (CAS) held "A Celebration of the Humanities with Michael Witmore."
Witmore, the director of the Folger Shakespeare Library and former CMU English faculty member, spoke on the changing perspectives on archives. He discussed how many believe that the widespread digitization of cultural heritage materials has led to the verge of a golden age of digital access and what that truly means for scholars of the humanities.
Faculty, students and alumni from the four humanities departments - English, History, Modern Languages and Philosophy - joined Dietrich College Dean John Lehoczky, CAS Director Paul Eiss and other members of the campus community for a look at the past, present and future of the humanities at CMU.
"When I became dean in 2000, I believed that strengthening the humanities departments was vital not only to the success of the college, but essential for Carnegie Mellon as a whole to realize its full potential," Lehoczky said. "Our faculty and students have adopted CMU's interdisciplinary ideals and are making incredible contributions to their fields and leading the humanities into the future."
To learn more about the humanities at Carnegie Mellon, watch the video at youtu.be/DFdHcQN-Chs or visit www.cmu.edu/dietrich/humanities.
Michael Witmore, director of the Folger Shakespeare Library and a former Carnegie Mellon faculty member, delivered the keynote address at the Celebration of the Humanities. Check out another Folger Library connection on page 12.