June 13, 2013
"The Road Goes Ever On and On" for St. Clair
By Cindy Carroll mailto:stell(through)cmu.edu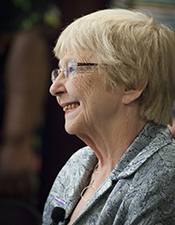 May Day has always been an auspicious day for celebration, and this year was no exception.
Friends, colleagues, students, faculty and staff surrounded Gloriana St. Clair in person and in spirit on May 1, when the campus community packed Posner Center to celebrate her 15-year tenure as dean of University Libraries.
The parade of well-wishers extended out the door for much of the party, as all were warmly welcomed by the guest of honor. In lieu of a guestbook, people lingered to write notes on cards and stones.
A surprise guest, the wizard Gandalf of "The Lord of the Rings" trilogy by J.R.R. Tolkien, initiated the speaking segment of the celebration, in which many spoke briefly about St. Clair's vision and passion for the library as the intellectual and social centerpiece of the university, her commitment to the digital future and their own relationships with her.
University Libraries' Ona Taylor and Denise Novak talked about the quality of St. Clair's leadership. Michael Shamos summed up in a few pictures St. Clair's repeated far-flung trips on behalf of the Million Book Project. She visited India, China, Italy, Egypt and Qatar among other nations. Provost and Executive Vice President Mark S. Kamlet touched on St. Clair's listening and laughter, which she used successfully for team building with students as well as faculty, staff, fellow deans and university administrators. Trustee Tod Hunt shared personal reflections on St. Clair's devoted stewardship of his family's gift to the university, Hunt Library.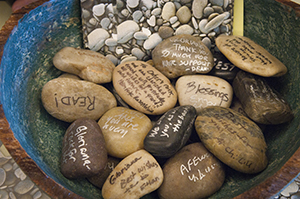 President Jared L. Cohon spoke about St. Clair's lifetime of service to her profession, generous legacy of service and philanthropy to the CMU community and remarkable track record with the National Science Foundation (grants for the Million Book Project made her NSF's 'most-funded' librarian), before neatly segueing into their shared passion for the writings of Tolkien.
Concluding his remarks, Cohon presented St. Clair with "an uncommon gift for an uncommon individual" - a replica of the Arkenstone of Thrain, a large gem treasured by the Dwarven Longbeards clan of the Lonely Mountain and sought by Thorin Oakenshield in "The Hobbit": "A globe with a thousand facets; it shone like silver in the firelight, like water in the sun, like snow under the stars, like rain upon the moon!"
When Cohon invited St. Clair to say a few words, he brought the house down by likening their joint stepping down next month to the characters in "Thelma & Louise" sailing off the cliff into whatever the future may bring.
For St. Clair, "the road goes ever on and on" at CMU: She will become dean emerita effective July 1, but will remain engaged with the university as the official liaison to the Osher Lifelong Learning Institute, an active student and teacher in Osher; and as director of the Olive Archive for Executable Content, a project with the School of Computer Science funded through 2015 with grants from the Institute for Museum and Library Services and the Alfred P. Sloan Foundation.
Many of those who could not attend the party in person were represented in the current Posner Center exhibit, which opened to coincide with St. Clair's fete. "CMU READ, 2000-2013" is a series of about two dozen READ cards and posters featuring past and present members of the CMU community with their favorite books.
Commissioned in homage to the American Library Association's perennial celebrity READ poster campaign, St. Clair created cards that she used for informal correspondence with colleagues and donors, and posters displayed in the libraries and elsewhere on campus - highlighting the symbiosis of reading, libraries and the university.
While stepping down as dean of University Libraries, Gloriana St. Clair will continue to be involved in many aspects of Carnegie Mellon life.
Guests were encouraged to share words of wit, wisdom and well wishes for St. Clair on stones.