June 13, 2013
SMART Switch
New ID To Track PAT Ridership More Efficiently
By Heidi Opdyke opdyke(through)andrew.cmu.edu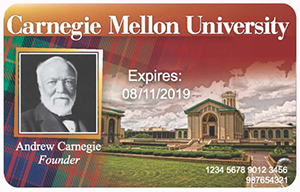 Now even ID cards at Carnegie Mellon will be smart.
Starting in July, the university will be issuing new identification cards to faculty and staff as part of the Port Authority's (PAT) conversion to electronic fare collection, a more efficient way to measure ridership and track its most popular routes among institutional customers. Students will receive their new SMART ID cards in September.
Instead of showing a CMU ID card to the bus driver, users will be able to tap IDs on the farebox, which will detect the chip ID number located inside of the cards. If the card is accepted, the rider will hear a single beep.
CMU will be the second university in the city to convert to the system. University of Pittsburgh students, faculty and staff started receiving SMART cards in 2009 with all riders using them by 2012.
Brian Fernandes, associate director of Enrollment Services, and Jenna Tracy, HUB services manager, are leading the CMU conversion.
Tracking ridership more efficiently will give PAT and CMU more reliable data for better managing the transportation relationship.
CMU entered into a new contract with PAT in January. The agreement, retroactive to Aug. 1, 2012, pays PAT $1.6 million for the first year and $1.8 million during the second year with no tie to ridership. Beginning in August 2014, CMU will pay 50 percent of a Zone 1 base fare, which at today's prices would be $1.25 per ride.
Ryan Wolfe, director of Campus Services, said the university has been experiencing rapid growth in the use of public transportation, but the data has relied on drivers manually counting riders carrying CMU IDs.
"The big unknown has been how accurate those manual taps have been," Wolfe said. "If they're accurate, the university could easily be paying 40 percent more [annually] to the Port Authority."
Wolfe said despite the anticipated increase, the service is important to the university community.
"When we had town halls in 2012, the community voiced its support of the program, both staff and students," he said. "While we can't solve all of the Port Authority's [financial] troubles, we're willing to pay a fair market rate for that kind of service."
Wolfe said the new system also would generate data for specific community groups.
"We're expecting the ability to look at ridership from a student perspective and staff perspective," he said. "That's something we've never had before. We're excited about getting that data."
Because the cards will be more expensive to produce, the new versions for faculty, staff and undergraduates will have a four-year shelf life. Graduate student cards will continue to be valid for two years.
"It's a stronger card that's double laminated," Fernandes said. "We're hoping to have less plastic waste and fewer students losing their cards."
With the change Tracy said there have been many questions regarding personally identifiable information, such as what information the Port Authority will receive when cards are tapped at fare collection boxes.
"The only information that's being pulled from that transaction is the chip ID number, which is not tied to anyone's name, Andrew ID or personal information," Tracy said.
SMART card holders have the choice of using their current ID photo or submitting a new photo online at
www.cmu.edu/idplus/idcards/idphotos.html
. The deadline for faculty and staff to submit photos is June 15.
The changes will only affect the PAT system. Sponsored or affiliate ID cards will remain the same.
Refreshed Look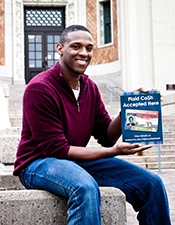 Along with the added technology, the updated cards will have a new design. Samuel Sanders, who will be a fifth-year architecture student, received the most votes in the CM-yoU ID Card Design Contest and his design will be the look of the new Carnegie Mellon Pittsburgh campus SMART card.
One of more than 70 submissions, Sanders' design was unanimously selected as one of the top three designs by a review committee representing Student Affairs, the School of Design, the School of Art, Campus Affairs Information Technology and Enrollment Services Administration.
Nearly 2,500 votes were received between April 15-26. Sanders' design, Design B in the contest survey, received 55.5 percent of the votes.
Distribution
Faculty: SMART cards will be delivered to departments on July 12, and a coordinator from each department will handle the distribution process. Only benefits-eligible faculty at the Pittsburgh campus will receive new SMART Cards.

Staff: Benefits-eligible staff members at the Pittsburgh campus can pick up SMART cards from 9 a.m. - 4:30 p.m. during the week of July 15-19 at Andy's Alcove, lower level of the University Center. They will need to turn in their current ID card at that time. SMART cards will be distributed alphabetically by last name:

•    A-F: Monday, July 15
•    G-L: Tuesday, July 16
•    M-R: Wednesday, July 17
•    S-Z: Thursday, July 18
•    All remaining: Friday, July 19 SMART cards not picked up during distribution week will be returned to The HUB, located in the lower level of Warner Hall, for pick up.

Students: For new students who submit photos prior to July 12, undergraduate students will receive cards during orientation, and graduate students will receive cards from their departments. Students who do not send photos in advance will need to visit The HUB during regular business hours for their ID cards.

Returning undergraduate and graduate students will receive the new cards during the week of Sept. 23-27.

Image Courtesy of the HUB

Architecture student Samuel Sanders created the look for the new Pittsburgh campus SMART card