June 13, 2013
Sewing Machine
Computer Scientist Crafts Quilts During Fellowship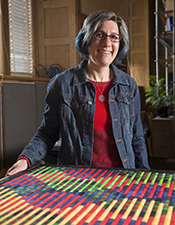 Computer scientist Lorrie Cranor has pieced together an interesting sabbatical for herself.
Cranor, an associate professor of computer science and engineering and public policy, and director of the CyLab Usable Privacy and Security Laboratory, is stitching together her interests in privacy, security and quilting.
"I wanted to find a sabbatical project that was really different than the kind of things I do all the time," she said. "Art and quilting have long been interests of mine, and I've always felt like I never really had time for them."
Since August, she has been working on visualizing security and privacy concepts through art as a fellow of the Frank-Ratchye STUDIO for Creative Inquiry. Golan Levin, an associate professor of electronic art, is the director of the studio.
"The STUDIO supports the work of Carnegie Mellon's faculty, researchers and students who are dedicated to expanding the arts through new ideas and new ways of thinking," Levin said. "Lorrie's work is the perfect example of that - particularly how she's adapted the concept of privacy information into her quilt-making through the use of technology."
One of her quilts was inspired by a handout she received at South by Southwest in Austin, Texas. A Japanese startup was giving out 30x lenses to take closeups of skin. Instead, she focused on flowers. She printed the images on fabric and assembled nine blocks using additional materials. While the original flower images are difficult to see at first glance, a closer look brings them into focus.
"It's a lot like de-identification of personal data used in research," Cranor said. "Data is removed and digital noise is introduced, but in the end, the de-identified data might be re-identified given enough time and information."
Cranor said the STUDIO has been a wonderful, nontraditional space. Unlike some art studios, there are no easels or paint. Rather, artists work mostly on computers.
Cranor, however, has spent most of her time with a pile of fabric and an old sewing machine borrowed from the Purnell Center's costume shop.
"People kept coming over and looking at it and saying 'Where's the computer? How are you going to attach a computer to that? Is it going to have a robotic arm? It's great that you're playing with this pile of fabric here but there must be some way you can use a computer in all of this.'"
The questions got her thinking, and she started working on a series of quilts using commercial fabrics sliced up and interwoven into new designs.
"The first one that I did I kind of visualized in my head, but it's really hard to do. Then I tried to do something more complicated," she said. "I was sitting here kind of drawing it out, and Golan [Levin] saw me doing that and said, 'now you really need to use a computer, you can write a program to help you design this.'"
Using a language called Processing, Cranor built a tool to draw out her interleaved quilt designs that allows her to play with colors and shapes quickly.
"I can very easily run through many different visual designs. When I find the one I like, I can make life-size paper templates that let me cut the fabric and actually make the quilt," she said.
One recent creation, a commission from CMU's President's Office, used an algorithm to produce curves based on mathematical expressions that incorporated Carnegie Mellon's Tartan plaid.
"When you first think about the Tartan plaid and sine waves they don't seem to really go together," she said. "It was really helpful to have the computer program because I photographed the Tartan and put it into my program. I could experiment with the exact positioning of the plaid in the quilt. One of the things I figured out is that the frequency of the plaid is nine inches, so therefore the frequency of the sine waves better be nine inches or it's not going to look good."
The finished project was so nice, that art prints of it were given to the partners of the University Trustees members who participate in Maureen Cohon's Partners Program.
During her fellowship, she has made 10 quilts, but she's not done yet. Six of those were on display at the Pittsburgh Children's museum. The exhibit came about after a chance meeting with the director of the museum. She is looking into having another exhibit and will be offering a talk about the experience in the next year.
Cranor started quilting while she was a graduate student at Washington University in St. Louis.
"I was looking for something artistic that I could do where I could see immediate, tangible results when I was getting frustrated with my thesis and feeling like I didn't have tangible results there," she said.
Her first big purchase after completing her Ph.D.? A sewing machine.

Computer Scientist Lorrie Cranor is creating quilts during a yearlong sabbatical. In front of her is a quilt using CMU's Tartan plaid that was presented to CMU's First Lady Maureen Cohon.