June 13, 2013
'Enrich the Lives of Others'
Commencement Messages Share Values, Priorities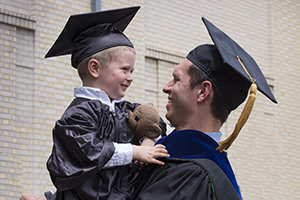 The will to love can help people overcome obstacles in life.

That was the message of alumnus Aron Ralston (E'97), who saved his own life while trapped in a Utah canyon, to the more than 4,200 graduates at Carnegie Mellon's 116th Commencement.

Ralston and CMU President Jared L. Cohon, who is stepping down on June 30, delivered keynote addresses.

This year marked the 10-year anniversary of Ralston's rescue after six days alone in the Utah desert with his arm trapped under a boulder.

"Many of our faculty and staff, who knew Aron during his time as a student leader here, know he is a young man whose intellect, character, curiosity, humor and determination embody the very best of this university," Cohon said of Ralston, whose book, "Between a Rock and a Hard Place," was made into the Oscar-nominated Hollywood movie "127 Hours."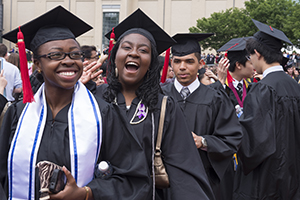 "I am profoundly humbled to be joining you today at this unparalleled place - Carnegie Mellon," Ralston said. "It's truly an extraordinary university that's home to buggy races, the Fence, and a self-piloting SUV that I heard recently taught itself to play the bagpipes."

Referring to the courage it took to amputate his own arm, Ralston said, "If you doubt for one second that you would do it for yourself, ask: what wouldn't you do to get back home to your closest loved ones."

Sharing memories of his rescue, Ralston pointed out that the will to love triumphs the will to live.

"Because the will to love says we're not just here on this earth to enrich our own lives; we're here to enrich the lives of others. So get out there and save the world."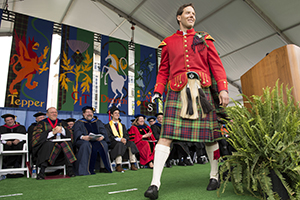 During his 16-year tenure, Cohon guided the university to unprecedented success and growth as a global university.

In addressing the class of 2013, Cohon remarked on the past.

"I figured back in 1997 that I had 16 years to get ready for all of you graduating today: the Harry Potter, South Park, tech-savvy, Star Wars, Men in Black generation. People who are genuine, committed, open, smart and caring," Cohon said. "So, I got busy."

While noting that CMU has changed, Cohon pointed out that "what is more important is what hasn't changed in these 16 years. That is, our core values as a university: problem-solving, hard work, innovation and collaboration. These are well known to you. These values have infused your experiences here, and they will be guideposts and important touchstones for you throughout your lives."

Six received honorary degrees during the ceremony in recognition of being exemplary leaders whose life and work serve as an inspiration for CMU students, faculty and staff. The diversity of this year's candidates represented the intersection of business, technology and the arts, a university hallmark, and they included:
Jules Fisher, a Tony Award-winning lighting designer and producer, received a Doctor of Fine Arts. He is a 1960 graduate of CMU's College of Fine Arts.
Charles M. Geschke, a renowned software industry leader who is co-founder and chairman of the board of Adobe Systems, Inc., was awarded a Doctor of Science and Technology. He is a 1973 graduate of CMU's Mellon College of Science.
Mark A. Nordenberg, chancellor and distinguished service professor of law at the University of Pittsburgh, was presented with a Doctor of Humane Letters.
Ratan N. Tata, an esteemed international business leader who is chairman of the Tata Trusts, received a Doctor of Business Practice.
Charles M. Vest, president of the National Academy of Engineering and president emeritus of the Massachusetts Institute of Technology, was awarded a Doctor of Scienceand Technology.
Jared L. Cohon was surprised after Board of Trustees Chairman Ray Lane interrupted the ceremony to call Provost Mark Kamlet back to the podium. Kamlet announced that the university also was awarding Cohon with a Doctor of Humane Letters.
Andres Rodriguez, who earned his Ph.D. in Mechanical Engineering in December, brought his 3-year-old son, David, to Commencement. "He was an inspiration to me to work hard and maximize my productivity when I was 
in school so that at home I could play with him," Rodriguez said. "I am hoping that in 20 years, we can return to CMU for his graduation with him wearing a bigger gown." See more Commencement coverage on page six.

Mellon College of Science graduates Darlene Reid and Jessika Louissaint celebrate at commencement.

Aron Ralston (E'97) took off his commencement gown to reveal a Kiltie Band uniform.