January 17, 2013
News Briefs
Student Affairs Coordinates Book Drive in Memory of Sandy Hook Shooting Victims
The Office of the Dean of Student Affairs is coordinating a book drive through the We Can Read project in memory of the students and faculty who died in the December shootings at Sandy Hook Elementary School in Newtown, Conn. Donations from CMU will benefit the library at Pittsburgh Public Schools' Arsenal PreK-5 in Lawrenceville. The school's librarian has created an Amazon Wish List of more than 300 books, and the drive will run until all of the books are purchased. Books purchased through the Wish List will be directly shipped to the school. Those interested in purchasing books from the Wish List at a different retailer are asked to click "Buying this gift elsewhere?" to mark the book(s) as purchased and drop them off at 301 Warner Hall. For more information, contact Joanna Dickert at joannad@andrew.cmu.edu or 412-268-2075.
Presenters Needed for Daughters and Sons To Work Day
Staff Council is looking for individuals and groups who would like to present or lead an activity at Take Our Daughters and Sons to Work Day on Thursday, April 25. This annual program gives staff and faculty children between the ages of 8 and 15 an opportunity to see the wide range of career and learning opportunities that Carnegie Mellon can offer them. Each activity or presentation will be visited by two groups of about 25-30 students for a repeating 45-minute presentation. The total time commitment is approximately three hours. If you would like more information or would like to be included as a possible presenter or volunteer, please contact Alicia Angemeer at adbrown@andrew.cmu.edu.
Roberts Road Closed Jan. 18-21

Robert Roads will be closed from 6 p.m. on Friday, Jan. 18, until 6 a.m. on Monday, Jan. 21. Concrete work for the road and sidewalk is planned. Access to Roberts Hall will be through the south and north doors. Detour signs will be posted at the south and north ends of the sidewalk. Weekly construction updates for Scott Hall are available at the CDFD website. If you have any questions please contact Max Dorosa at maxd@andrew.cmu.edu or 412-268-8936.
Graduate Student Service and Teaching Award Nominations Due Feb. 8

The Graduate Student Service and Teaching Award nominations are due on Friday, Feb. 8. The committees would greatly appreciate your support in soliciting and submitting nominations of graduate students who have excelled in teaching or service so that their efforts can be recognized by the university community. Nomination information can be found at http://www.cmu.edu/celebration-of-education/graduate-student/index.html. The Awards will be presented on Thursday, April 4, at the Innovation with Impact: Graduate Student Celebration of Research, Teaching and Service during Graduate Student Appreciation Week. Recipients also will be recognized at the Celebration of Education on Tuesday, April 30.
Outrage! CMU Book Explores Art, Controversy and Society
One of the first projects formed through Carnegie Mellon's Center for the Arts in Society (CAS) focused on the role art controversies play in the public. The results of the multi-year work by CMU faculty and other experts have been captured in a new scholarly book, "Outrage! Art, Controversy, and Society." Edited by Carnegie Mellon's Andreea Deciu Ritivoi and Judith Schachter, along with Richard Howells of King's College London, "Outrage!" examines art controversies and how they are shaped by, and shape, a social context. The volume includes essays by 17 contributors — most with a direct connection to CMU — in fields ranging from art and visual studies to philosophy, literature and social sciences. A book launch and signing event that will also feature "Readings in Performance and Ecology," edited by Wendy Arons and Theresa May, will take place 4:30 p.m., Wednesday, Jan. 23 in the University Center's Danforth Lounge. Email hssdean@andrew.cmu.edu to RSVP. Read more.
Computing Services Opens Lending Center in UC
Computing Services has opened a Lending Center on the first floor of the University Center, making renting audio-visual equipment for your event more convenient and less expensive. At the Lending Center, which is near the ATM machines on the first floor across from the McConomy Auditorium entrance, you can pick up cameras, flat-screen monitors, microphones, projectors and other equipment.

To rent equipment, submit your order at least 24 hours in advance using the online order form (http://www.cmu.edu/computing/class-event/orders/other) or send email to MediaTech at mediatech@andrew.cmu.edu. Include your Oracle String for payment. You can pick up your order from noon to 4 p.m., Monday through Friday. Use the drop slot near the ATM machines to return small items. Return large items during Lending Center hours.

For more details, including a complete list of equipment and pricing, visit http://www.cmu.edu/computing/uc-lending.
Shuttle/Escort Adds New Service From 300 S. Craig St. Stop
Beginning at 6:30 p.m., Monday, Jan. 14, the Escort Division of the Shuttle/Escort Service is now providing transportation from the 300 South Craig St. escort stop to the University Center escort stop and from all main campus stops to the stop at 300 South Craig St. This service is being provided on a test basis during the spring semester from 6:30 p.m. to 3:30 a.m. seven days a week to provide a safe means for CMU community members to travel from the Craig St. corridor to main campus during evening and night time hours.

Service from the 300 South Craig St. escort stop to campus will only be provided by the Squirrel Hill escort buses (Yellow and Red Zones), which will first stop at 300 South Craig before proceeding to all the campus escort stops.  All Craig St. passengers must disembark at the University Center stop to allow seating for those travelling to Squirrel Hill.

Service from main campus escort stops to 300 South Craig will only be provided by the Shadyside (Blue Zone) and Oakland (Green Zone) escort buses. These buses stop at all campus escort stops before proceeding to 300 South Craig.

CMU Police urges members of the community to always make safety your first priority. Never walk alone at night. Walk in groups or use the Shuttle/Escort services, public or private transportation or Safewalk.  And immediately report any suspicious or threatening activity that you see or encounter to the CMUPD at 412-268-2323.  Doing so may keep you or someone else from harm.
Student Hour With the President
Carnegie Mellon President Jared L. Cohon will be hosting an open office hour for students from 5 to 6 p.m. on Thursday, Jan. 17.  Any student interested in meeting with President Cohon should send an email request to Shari Zingle in the Office of the Dean of Student Affairs at szingle@andrew.cmu.edu.
Fitness Challenge Begins Jan. 28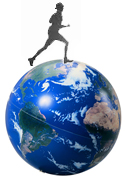 An effort to get the Carnegie Mellon community moving at the gym could take you places. At least on paper.

"CM-YOU" is the theme for this year's Department of Athletics' Fitness Challenge, an annual effort that aims to get people to exercise 20 minutes a day for four times a week. This year's challenge runs Monday, Jan. 28 through Friday, March 8.

Pattye Stragar, operations manager for Fitness & Aquatics, said she hopes to get participation from other CMU locations around the world. In Pittsburgh, the Healthy Campus Kickoff will take place at noon on Wednesday, Jan. 16 in the University Center (UC), and an open house will be held at noon on Friday, Jan. 18 at athletic recreation facilities in the UC and Skibo Gymnasium.

To visualize progress, a large world map will be hung near the University Center Equipment Desk marked with CMU locations. Participants will choose a destination, and as they complete their exercise each day, they'll earn blocks that will get them and others with the same destination a little closer to their goal.

Read more about the Fitness Challenge at http://www.cmu.edu/piper/stories/2012/december/globetrotters.html.
CMU Portugal Hosts Symposium Jan. 21
The Carnegie Mellon Portugal program will hold an Inaugural Symposium for the second phase of the partnership on Monday, Jan. 21 in Portugal. The symposium will include presentations by several program officials and professors, including: João Claro, national director of the Carnegie Mellon Portugal Program; José M.F. Moura, director of the Carnegie Mellon Portugal Program at CMU; and professors Priya Narasimhan, Ed Schlesinger, Frank Pfenning, David Garlan, Pedro Ferreira, Peter Steenkiste, Manuela Veloso and Marija Ilic. See the agenda at http://www.cmuportugal.org/tiercontent.aspx?id=4466.
Weight Watchers Offered at CMU
Weight Watchers is offered at Carnegie Mellon for $39.95 per month. Meetings are held at 11:30 a.m. every Wednesday in Cyert Hall B6-A. Membership includes all Weight Watchers material, weekly meetings and e-Tools. Contact Rita Motor at 412-268-8071 or rita@cmu.edu with any questions. You can sign up online at https://wellness.weightwatchers.com. Use the Carnegie Mellon ID (21025) and pass code (WW21025).