January 10, 2013
News Briefs
Shuttle/Escort Adds New Service From 300 S. Craig St. Stop
Beginning at 6:30 p.m., Monday, Jan. 14, the Escort Division of the Shuttle/Escort Service will provide transportation from the 300 South Craig St. escort stop to the University Center escort stop and from all main campus stops to the stop at 300 South Craig St. This service will be provided on a test basis during the spring semester from 6:30 p.m. to 3:30 a.m. seven days a week to provide a safe means for CMU community members to travel from the Craig St. corridor to main campus during evening and night time hours.

Service from the 300 South Craig St. escort stop to campus will only be provided by the Squirrel Hill escort buses (Yellow and Red Zones), which will first stop at 300 South Craig before proceeding to all the campus escort stops.  All Craig St. passengers must disembark at the University Center stop to allow seating for those travelling to Squirrel Hill.

Service from main campus escort stops to 300 South Craig will only be provided by the Shadyside (Blue Zone) and Oakland (Green Zone) escort buses. These buses stop at all campus escort stops before proceeding to 300 South Craig.

CMU Police urges members of the community to always make safety your first priority. Never walk alone at night. Walk in groups or use the Shuttle/Escort services, public or private transportation or Safewalk.  And immediately report any suspicious or threatening activity that you see or encounter to the CMUPD at 412-268-2323.  Doing so may keep you or someone else from harm.
Student Hour With the President
Carnegie Mellon President Jared L. Cohon will be hosting an open office hour for students from 5 to 6 p.m. on Thursday, Jan. 17.  Any student interested in meeting with President Cohon should send an email request to Shari Zingle in the Office of the Dean of Student Affairs at szingle@andrew.cmu.edu.
Fitness Challenge Begins Jan. 28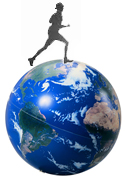 An effort to get the Carnegie Mellon community moving at the gym could take you places. At least on paper.

"CM-YOU" is the theme for this year's Department of Athletics' Fitness Challenge, an annual effort that aims to get people to exercise 20 minutes a day for four times a week. This year's challenge runs Monday, Jan. 28 through Friday, March 8.

Pattye Stragar, operations manager for Fitness & Aquatics, said she hopes to get participation from other CMU locations around the world. In Pittsburgh, the Healthy Campus Kickoff will take place at noon on Wednesday, Jan. 16 in the University Center (UC), and an open house will be held at noon on Friday, Jan. 18 at athletic recreation facilities in the UC and Skibo Gymnasium.

To visualize progress, a large world map will be hung near the University Center Equipment Desk marked with CMU locations. Participants will choose a destination, and as they complete their exercise each day, they'll earn blocks that will get them and others with the same destination a little closer to their goal.

Read more about the Fitness Challenge at http://www.cmu.edu/piper/stories/2012/december/globetrotters.html.
"Imperfect Health" Exhibit  Continues at Miller Gallery

Called the "Exhibition of the Year" by Design Observer, "Imperfect Health: The Medicalization of Architecture," will remain at its only U.S. tour stop, The Miller Gallery, through February. Organized by the Canadian Centre for Architecture, Imperfect Health was recently recognized by the website Design Observer, which focuses on a wide variety of design topics including social innovation, pop culture and urbanism; it features the architecture and urban design publication Places, as well.
CMU Portugal Hosts Symposium Jan. 21
The Carnegie Mellon Portugal program will hold an Inaugural Symposium for the second phase of the partnership on Monday, Jan. 21 in Portugal. The symposium will include presentations by several program officials and professors, including: João Claro, national director of the Carnegie Mellon Portugal Program; José M.F. Moura, director of the Carnegie Mellon Portugal Program at CMU; and professors Priya Narasimhan, Ed Schlesinger, Frank Pfenning, David Garlan, Pedro Ferreira, Peter Steenkiste, Manuela Veloso and Marija Ilic. See the agenda at http://www.cmuportugal.org/tiercontent.aspx?id=4466.
Weight Watchers Offered at CMU
Weight Watchers is offered at Carnegie Mellon for $39.95 per month. Meetings are held at 11:30 a.m. every Wednesday in Cyert Hall B6-A. Membership includes all Weight Watchers material, weekly meetings and e-Tools. Contact Rita Motor at 412-268-8071 or rita@cmu.edu with any questions. You can sign up online at https://wellness.weightwatchers.com. Use the Carnegie Mellon ID (21025) and pass code (WW21025).
Restaurant Week Offers Lunch for $5
Oakland's favorite restaurants will offer lunch for just $5 during Oakland Restaurant Week, Jan. 14-18. When you order a $5 lunch from any participating Oakland Restaurant Week Restaurant, you will receive an entry card for the chance to win FREE LUNCH FOR A MONTH in Oakland along with other great prizes!

Participating locations are: Pittsburgh Pretzel Sandwich Shop; Sushi Fuku; Sorrento's Pizza Roma; Original Milano Pizza; Hello Bistro; Joe Mama's; Red Oak Café; Pamela's Diner; Sciulli's Pizza; Peter's Pub; Quaker Steak & Lube; and Fuel & Fuddle.

Visit http://oaklandrestaurantweek.wordpress.com/ for more details.