February 04, 2013
Unordinary Eyes
Documentarian Profiles Writer in Exile
By Heidi Opdyke opdyke(through)andrew.cmu.edu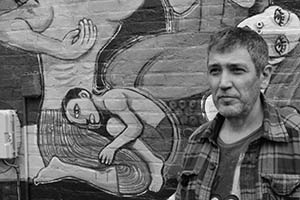 Andy Prisbylla describes the world through a camera lens and pen.
You can see some of his descriptions through his documentary photography in "Writer-in-Exile: Israel Centeno & City of Asylum Pittsburgh," now on display on Hunt Library's fourth floor through March 10.
"My work tends to meld writing and photography. The photos wouldn't work without the captions and the captions wouldn't work without the photos," said Prisbylla, a staff member in the Hunt Library mailroom. "I want to tell a beautiful story and learn something about somebody's life, which through ordinary eyes you may not be able to see."
The exhibit features City of Asylum and writer Israel Centeno. Founded in 2004 by Henry Reese and artist Diane Samuels, the nonprofit organization located in Pittsburgh's Mexican War Streets neighborhood provides a safe harbor to exiled authors who have experienced oppression and persecution in their home countries. The group provides a number of additional literary programs to encourage cross-cultural exchanges and is planning to open a bookstore and literary center in the future.
The organization's signature program offers a two-year residency for writers-in-exile, who are provided a living wage, medical coverage and help in transitioning to a permanent residency.
Reese said that Prisbylla spent several days with Centeno on the project.
"He really put his whole heart into it, which is really impressive," Reese said.
Centeno, a Venezuelan writer with more than a dozen books to his credit, has been in the program since 2010. As part of his exhibit, Prisbylla interviewed Centeno about his persecution by Hugo Chavez' government. His arm was broken and his car damaged.
"In this moment, we have historical evidence of victimization in Venezuela," Centeno is quoted in Prisbylla's captions. "The political thing was very strong for everybody, and for the dissident even more. The regime made threats against my life and threats against my daughter.
Still during this time I maintained a militant attitude against the government, but after this I went against this militant attitude and focused on my writing."
Prisbylla called Centeno impassioned and willing to put everything on the line just to be able to write.
"When I saw the trouble that he went through - he's writing novels in a country where you say the least little thing you're going to be persecuted for that - it kind of made me wonder if I take for granted the advantages I have, being able to tell these stories," he said.
During their time together Centeno gave Prisbylla candid insight into his life in exile, recounted his tumultuous and nearly fatal time in Venezuela under the Chavez regime, discussed his ever-growing body of novels and poetry, and expressed his hope and humor about the future.
"My time spent with Israel was a revealing one. As an independent documentarian I seek to tell interesting stories, but rarely acknowledge the inalienable right I have to do so. I learned we must remember to value our ability to make statements, regardless of their popularity or dissent, for there are others who don't share this liberty," he wrote in his artist's statement for the exhibit.
Prisbylla, originally from Steubenville, Ohio, moved to Pittsburgh in 2011, and has been at Carnegie Mellon since last May.
"Since I've been here I've found I really enjoy CMU, the people here are great and I really enjoy the job," he said.
An alumnus of Kent State University, he is a contributor to PhotoPhilanthropy.org, Akron Life Magazine and BenevolentMedia.org.
His book/portfolio of artist Brinsley Tyrrell's public art space, "Behind the Brain Plaza," was published and accepted into the Special Collections section of the Kent State Library. He is a member of the National Press Photographers Association, and his work has been used by various nonprofit organizations for marketing and fundraising purposes.
Prisbylla's next project will be chronicling the working class and unions. He said his photography has been influenced by the New York Photography League, a group of working-class people who held regular jobs but would document the lives around them during the mid-1900s.
"I'm inspired by that aesthetic of living the creative life and still working doing what needs to be done," he said.
Israel Centeno is a Venezuelan author and the subject of an exhibit on display at the Hunt Library through March 10.