February 04, 2013
Drama To Rock Purnell with Raucous and Racy "Spring Awakening"
By Dennis Schebetta dschebet(through)andrew.cmu.edu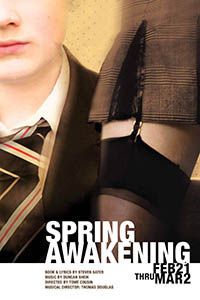 School of Drama actors, crew and directors are gearing up to rock the house with its next production in the Purnell Center's Philip Chosky Theater.
Drama students are rehearsing the pop-musical adaptation and Tony-Award winning play "Spring Awakening" by Duncan Sheik and Steven Sater, directed and choreographed by Tomé Cousin, assistant professor of dance, with musical direction by Thomas Douglas, associate teaching professor of voice.
The original "Spring Awakening" was written by the German dramatist Frank Wedekind in 1891 and created quite a scandal due to its subject nature and racy exploration of adolescent sexuality, abuse and suicide. The newly revised and raucous score by Sheik and Sater was written in 2007, and follows the original story of a group of students as they struggle with repression and double standards from teachers and parents, leading to more confusion and pain. The modern music includes songs such as "The Bitch of Living" and "Touch Me."
"All our plays this season seem to be about the difficulties and the consequences of ill-fated love," says Peter Cooke, head of the School of Drama. "Spring Awakening is a wonderful musical and we're thrilled to have recent addition Tomé Cousin make his directing debut at CMU with this production."
Cousin, a Point Park University alumnus who has spent time in New York, joined the School of Drama faculty in the fall of 2011. Since his return to Pittsburgh he has been busy directing around town, most recently directing and choreographing "The Producers" at Point Park Conservatory Theatre Company.
"Spring Awakening" begins performances in the Philip Chosky Theater Feb. 21 and runs until March 2. Ticket prices begin at $15 for adults and $10 for students. For complete ticket prices and ticket orders, call the School of Drama box office at 412-268-2407.