February 04, 2013
Hand Made
Build18 Provides Chance To Create Products
By Chriss Swaney swaney(through)andrew.cmu.edu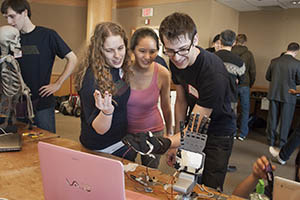 More than 140 Carnegie Mellon engineering students tapped into their entrepreneurial DNA with a hackathon, dubbed "Build18," to display a cache of tech savvy prototype products - from a robotic first-aid kit to a bicycle sporting an automatic transmission.
"Build18 is a great opportunity to complement our studies with the application of real-world engineering skills. We use what we have learned in electrical and computer engineering to create a cool product in a very short period of time," said Build18 leader Collin Buchan, a senior electrical and computer engineering (ECE) major from Austin, Texas.
Some of the projects showcased included a robotic Halloween candy dispenser, a programmable T-shirt embedded with LEDs to allow the user to change the graphic design on the fly and a Lego-inspired tool to teach digital logic to high school students.
The festival evolved out of ECE students' desire to designate time during the semester to work on their own creative technical ideas and to realize out-of-the-box solutions to real-world problems.
"We operate under strict deadlines and limited funding as is the case for most entrepreneurial startups," Buchan said.
Beth Anne Katz, left, explains the iRobotic hand during Build18, a hackathon hosted by students featuring tech-savvy projects. Katz worked with Ivana Stevens, Winnie Leung and Millwe Sukmar on the project, which can detect and mimic a human hand's position. The hand also can play Rock, Paper, Scissors against a human opponent.