December 02, 2013
"The Sound of Music"
Student, Alum To Appear in Live Broadcast of Classic Musical
By Kelly Solman ksolman(through)andrew.cmu.edu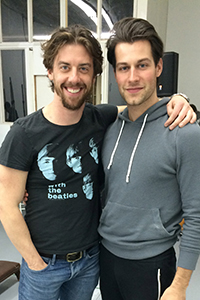 Another rehearsal extends well into the night, leaving musical theater senior Michael Campayno (A'14) and Tony Award-winning CMU alumnus Christian Borle (A'95) dog-tired.
But in a good way.
Campayno, Borle and their castmates - among them, Carrie Underwood - will perform the Rodgers and Hammerstein classic "The Sound of Music," live on NBC at 8 p.m. (EST), Dec. 5.
Live TV can be as challenging as performing on Broadway, but in some ways, less forgiving. There's no audience for feedback and close-ups can catch more details than someone in a theater might see.
Campayno said their goal is to make sure every action, sound and look as precise as they were in rehearsal while reacting to what's happening around them.
"If one little mistake happens, we have to know how to recover. If we're listening, and if we're in the moment, everything should be fine," Campayno said.
Campayno competed with hundreds of actors to land the role of Rolf, the young messenger who falls in love with Captain von Trapp's oldest daughter, Leisl.
While he is taking time out from his studies for the experience, he will still graduate on time. The School of Drama considers rare offers such as these to students in good standing as internships.
Don Wadsworth, professor of voice and speech in CMU's School of Drama, has a theory on why Campayno was chosen.
"In musical theater you tend to have a lot of singers, not singer/actors. Michael is a strong actor, and he probably was able to bring more to that role than other singers," Wadsworth said.
Campayno, a Forest Hills native and graduate of Pittsburgh's Central Catholic High School, won the local 2008 Gene Kelly Award for Best Supporting Actor. He's in good company with Borle, who grew up in Fox Chapel.
"Christian is another musical theater performer who is a strong actor," Wadsworth said of Borle, who starred in NBC's musical-drama series "SMASH" and plays von Trapp's friend, Max Detweiler.
"Christian won a Tony Award for his role in 'Peter and the Starcatcher,' and he just appeared in CBS' hit drama 'The Good Wife.' That's what we try to do at Carnegie Mellon. We try to build actors who can be cast in more than one arena, actors who can perform on Broadway and very much hold their own in serious TV shows or straight dramas."
While "The Sound of Music" may be best known for its songs, Campayno said director Rob Ashford is letting the drama of World War II approaching come through in the text.
"The musical is, in fact, as tense and dramatic as a straight play," said Campayno, who described the experience of playing Rolf as rewarding.
"Rolf's backstory isn't continuous or specific; Rob left that up to me to create. And I've been finding so much depth to the character," Campayno said.
"He's a young kid who wants to have purpose in life. A working-class boy who could, at best, only amount to a mailman in life, Rolf sees the Nazi youth as a way to have status and power, admirable traits. And he does all of this so that he can be good enough for Leisl. They are kind of tragic lovers."
Wadsworth noted similarities between Ashford, who studied dance in Pittsburgh at Point Park University and is an alumnus of the Pittsburgh Civic Light Opera, and Campayno, who spent the summer as the lead male understudy in the Pittsburgh CLO's Cabaret performance of "Side by Side by Sondheim."
"I would imagine that Rob, who has a varied background himself, probably appreciated someone like Michael who had more range," Wadsworth said. "Directors throw a lot at you. They say, 'Try this. Try that.' A good actor like Michael can handle that."  
Wadsworth said he can't remember the last time a musical was performed live on network television.
"Any live performance on television is a pretty remarkable thing. So, the fact that this is a huge Broadway musical is pretty spectacular," he said.

Pictured above are Christian Borle (A'95) and Michael Campayno (A'14).