December 02, 2013
"My Work Is From the Heart"
Subra Suresh Installed as President; Offers New Take on CMU Motto
By Piper Staff opdyke(through)andrew.cmu.edu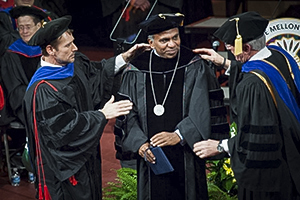 In a formal academic ceremony filled with all the regalia and pageantry of commencement, Carnegie Mellon officially inducted Subra Suresh as the university's ninth president on Friday, Nov. 15, the 113th anniversary of the university's founding by Andrew Carnegie.
The investiture ceremony continued with the inaugural theme "Crossing Boundaries, Transforming Lives," as Suresh compared the journey he took to arrive at CMU with experiences similar to its founder. But, he had his own take on the university's motto, "My heart is in the work," when he stated, "My work is from the heart."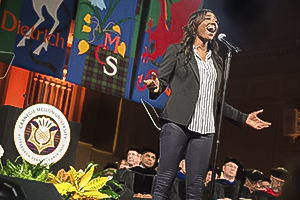 The ceremony in Carnegie Music Hall opened with a stunning performance of Stephen Schwartz' (A'68) "Corner of the Sky" by Tony Award-winner Patina Miller (A'06). Several gave remarks welcoming Suresh to Carnegie Mellon, including Allan Meltzer, the longest-standing faculty member at CMU, Faculty Senate Chair Roberta Klatzky, Staff Council Chair John Lanyon, and undergraduate and graduate student representatives.
Alumni Association President Toni Ungaretti (MM'70) presented Suresh with a kilt and plaid boxer shorts, and English Professor Jim Daniels read a special poem he wrote for the ceremony, titled "Rivers."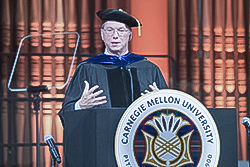 In his keynote address, Eric Schmidt, executive chairman of Google and a former CMU trustee, praised CMU as a "mythical place of achievement" where the field of computer science was created. He called CMU a "center of innovation, problem-solving and wealth creation," and said Suresh is the perfect combination for CMU. He called Suresh "a great leader for a great institution."
Schmidt remarked how Andrew Carnegie's original plan called for a home for the arts to be built alongside an institution focusing on training and technology.
"[CMU] is known for, obviously, its computer and engineering work, but let's not forget the School of Drama is celebrating 100 years in 2014, and the School of Music just celebrated its centennial in 2012," Schmidt said.
"Now we have a new leader who is the perfect combination to lead us forward," he said.
Carnegie Mellon has a history of philanthropists who have crossed boundaries to transform lives. One such example is David A. Tepper (TPR'82). As part of the inaugural celebration, President Suresh announced a $67 million gift from Tepper's charitable foundation to create the David A. Tepper Quadrangle. The new Tepper Quad builds on CMU's strengths, creating new interdisciplinary interactions for learning and research and connecting innovation to the business community.
The Tepper Quad will sit along Forbes Avenue between Morewood Avenue and Craig Street, an area where Suresh envisions great growth.
"Working with the University of Pittsburgh and the many collaborators in the city, county and region, Carnegie Mellon has the opportunity to transform Forbes Avenue into one of the most vibrant and prominent innovation corridors in the United States," Suresh said.
Suresh, who took office on July 1, shared some of the history of the institution, which points the way forward for the university.
Suresh reflected on some of the presidents and scholars who came before him. He described Nobel laureate and CMU faculty member Herbert Simon as a pioneer in the areas of artificial intelligence and machine learning, noting his spirit is still very much alive.
Earlier in the week, the university announced the Simon Initiative, a university-wide effort to accelerate the use of learning science and technology to improve student learning.
"Simon grasped the potential power that computing would bring to the world," Suresh said. "He also led by example, embracing the profound value of multiple disciplinary perspectives in conducting research that, to this day, enriches the culture of teaching, creativity and discovery on this campus.
"Carnegie Mellon owes much to such scholars and pioneers. We also owe much to the eight previous presidents of Carnegie Mellon, Arthur Hamerschlag, Thomas Baker, Robert Doherty, John Warner, Guy Stever, Dick Cyert, Robert Mehrabian and Jerry Cohon, whose hard work and passion for this campus have shaped its intellectual vitality," Suresh said.