December 02, 2013
Holiday Classic
Annual Concert To Include Seasonal Favorites
By Dana Casto dcasto(through)cmu.edu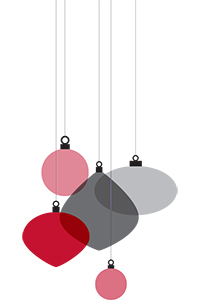 The holiday season at Carnegie Mellon is merry and bright when the university's philharmonic and choirs join together to perform the Holiday Concert.
The annual favorite, conducted by Maria Sensi Sellner, interim director of choirs, will feature holiday classics such as Irving Berlin's "White Christmas" and other well-known festive music.
"The holiday concerts have been a gift to the community for more than 60 years, and it's our pleasure to be part of this annual tradition," said School of Music Head Denis Colwell.
The program will include Bach's "Cantata Jauchzet Frolocket" and "Dona Nobis Pacem" from "Mass in B Minor."
In addition, it also will include seasonal selections such as the "Wexford Carol," Holst's "Wassail Song," Finzi's "In Terra Pax" and Bernstein's "Chichester Psalms."
Each of the concerts will be webcast live at
music.cmu.edu/pages/webcasting
.
For the second year, TIAA-CREF is serving as sponsor of the Holiday Concert.
For more information about the Annual Holiday Concert, visit
http://music.cmu.edu
.
"We are proud once again to be a sponsor of the 2013 Carnegie Mellon University Holiday Concert," said Larry Maher, director of relationship management for TIAA-CREF. "Congratulations to your talented and dedicated faculty, staff and students who work tirelessly to provide a performance to remember year after year."
Both performances are free for students, faculty and staff with a valid ID. General admission to the Thursday evening concert is $5. All CMU faculty, staff and students may receive up to two free tickets for the performance by visiting the online box office at
http://cmumusic.showclix.com
or by going to the School of Music website,
music.cmu.edu/events
. During checkout, faculty should use the code "CMUFaculty" and staff should use "CMUStaff."
What:
Annual Holiday Concert
When/Where:
8 p.m., Thursday, Dec. 5 at the Carnegie Music Hall in Oakland, and noon, Friday, Dec. 6, at the Great Hall, College of Fine Arts