April 17, 2013
Rocket Man
President Jared L. Cohon Reflects on His Time, Priorities at Carnegie Mellon
By Piper Staff opdyke(through)andrew.cmu.edu
Jared L. Cohon had visions of being a rock star touring Europe after having played drums with a band in Baltimore. But instead, he became a rocket man, catapulting Carnegie Mellon forward more than any president before him. He's driven the university upward on all strategic fronts. And he's taken Carnegie Mellon to the world.
How did he manage to pull it all together? By fostering the university's collaborative, problem-solving culture, he said, qualities that align well with his leadership style.

"I tell people I've got the best job in the world, and when I say that, I mean it," Cohon said in a recent interview. "Being a president of any university is a great honor and a great privilege, but especially being president of this university because of that culture - that can-do, problem-solving, let's-get-on-with-it, attitude.

"The lack of pretense and arrogance, the humility that goes with it; and the spirit of cooperation and collaboration are not anything that I brought to the university, although they align nicely with my own personality. I feel like I've been the right president for Carnegie Mellon because I feel personally the cultural values that the institution has."

And while he isn't looking to cement a legacy, when pushed, he has one in mind.

"I guess I would like people to remember me for my personal qualities and think of them positively," he said. "From a true legacy point of view, it's fun to be audacious when you can talk about a future so far in the future that no one will remember what you said. But I would like that for people in 2050, when Carnegie Mellon is finally allowed in the top 10 of the U.S. News and World Report ranking, for some to say, 'Gee, I wonder when we really started to move into the top 10?' And they'll look back and say, 'it was during the Cohon era.' That's my fantasy with regard to our globalization program. That's going to be our secret sauce."

During the first years of his administration, Cohon was part of an intensive planning effort that set the framework and the roadmap to success for the years to come.
Online: Share your stories and view the interactive timeline of the Cohon era.
Read about what President Cohon has to say on Carnegie Mellon's six strategic priorities and his plans for next year: Education for Leadership | Globalization | Research | Community/Regional Success | Financial Strength | Public Perception | Moving Forward
Photo by Harry Giglio Photography. Carnegie Mellon's eighth president, Jared L. Cohon, is ready to step down from what he calls "the best job in the world."
Education for Leadership
In 2000, Cohon told the Pittsburgh Post-Gazette that "I want to see at least one president of the United States in the 21st century be a Carnegie Mellon graduate. And I think given our international character and our international aspirations, I'd like to see the head of state in other countries also be Carnegie Mellon graduates."

So far, that hasn't happened, nor has an alumnus been a member of the U.S. Congress, but Cohon remains optimistic.

"Only time will tell, but surely we will see more of our alumni in those kinds of leadership positions," he said.

The student body has changed during his tenure. Previously students were admitted who knew exactly what they wanted to do and were admitted based on SAT scores, grade-point average and a pre-determined career choice.

"We changed that in 2000 to intentionally attract students with broader interests - more non-academic interests and achievements - and there's no question that it made a difference right away.

"The students today are certainly every bit as capable academically as the students back then, but they bring something else as well. This is all in the name of graduating students who are more likely to become CEOs and leaders."

Student satisfaction has continued to rise in part because of the re-emphasis of undergraduate education that started under Cohon's predecessor, Robert Mehrabian.

"We just continued that. We've had exceptional leadership in the Student Affairs Division." Cohon singled out past dean and current Vice President Michael Murphy, previous Vice President Bill Elliott and current Dean Gina Casalegno. "They've just done a great job, I think, in improving the undergraduate experience in every way."

The student body has grown. For undergraduates, the growth has been modest and is up 20 percent since the start of his tenure.

"We were responding to explosive growth in the applicant pool," Cohon explained.

Graduate programs also have seen explosive growth.

"That was largely the result of individual decisions by departments and colleges to expand master's programs. Both because of the opportunities and demands for master's education and also as a way to generate revenues for the units," he said.

"The Ph.D. programs have grown very significantly. That has been strategic and was very clearly identified in the strategic plan as an area where we needed to grow. We felt a strong need to do that because the growth of research programs is very closely tied to the reputation and prestige of the university."
Globalization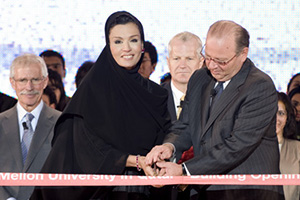 CMU's faculty, students and alumni have created 15 degree programs in 14 countries. Each of the campuses and educational programs has its own flavor and focus.

The Board of Trustees, led by Vice Chair Kears Pollock, set up guiding principles to determine when an international program could be pursued. They include making sure that it is self-sustainable, that CMU has the sole responsibility for academic content and admissions, and that faculty members are willing to be a part of any agreement.

"Our willingness to be flexible, to adapt to local situations, without compromising our standards has been a key to our success," Cohon said.

One of those successes is the Information and Communication Technologies Institute (ICTI) between Carnegie Mellon and Portugal. Starting in 2006, CMU's collaboration with the Portuguese Ministry of Science, Technology and Higher Education has involved professors, researchers and students from six colleges, eight departments, and six research centers and institutes at Carnegie Mellon, and a large consortium of Portuguese research and education institutions, including 12 higher education institutions, four associate laboratories, one applied research institute and two governmental agencies. The collaboration has been so successful that CMU is now in its second five-year agreement.

"In particular, our program has helped the universities in Portugal to start transforming themselves, and it has put them on a path toward becoming world-class research universities. They never used to work together. They barely talked to each other. Now, they're sharing courses and degree programs."

Another success Cohon noted is that the Portuguese universities had never previously worked with industry, and now more than 80 companies are involved with the program.

Carnegie Mellon in Qatar is the sole undergraduate program outside of Pittsburgh.

"The Arab world is one that is both an opportunity and a challenge for America and for Western institutions," he said. "So the potential for impact is especially great there."

Cohon credits Provost and Executive Vice President Mark Kamlet for his tireless work in creating opportunities. He recalled a recent phone call when Kamlet mentioned running to Buenos Aires, Argentina, for a quick business meeting.

"He is extraordinary in every way including his capacity for work and travel. He is amazing. And it's not just capacity, it's his brilliance and his creativity in making and putting into action our institutional culture," he said.

Cohon, as well, spends a lot of time traveling. So much so, he has logged more airline miles than he cares to think about. Despite all of the trips to outlying Carnegie Mellon locations and visiting alumni, he's made a concerted effort to be visible in Pittsburgh.

Judith Rodin, former president of the University of Pennsylvania and Cohon's provost when he was a dean at Yale, advised him early on to strike a balance.

"She was right about that need to be everywhere at once, and it also reflects the sort of pull-and-tug of the multiple constituencies you're responsible for," he said.
Her Highness Sheikha Mozah Bint Nasser Al-Missned and CMU President Jared L. Cohon cut the ceremonial ribbon at the grand opening of Carnegie Mellon's building in Education City in 2009.
Research
Cohon said the biggest win for Carnegie Mellon in research during his tenure has come in the life sciences.

"We've seen the most growth there, and that was one of our strategic priorities and where, early on, we really emphasized our strategic investments. We doubled the faculty and almost tripled the amount of sponsored research. New departments were created; it's been a great success."

Within biotechnology, National Institutes for Health (NIH) funding increased from $10.8 million in 1997 to $24.8 million in 2011. During that same time period, Ph.D. students increased from 45 to 210. Two departments have been added: Biomedical Engineering and the Lane Center for Computational Biology. Eight research centers also have been included, some of which are joint efforts with the University of Pittsburgh, such as the Quality of Life Technology Center.

The university also has expanded in the fields of information technology, the environment, physics - especially cosmology - entertainment technology, energy and other areas linking to computer science.

"It's notable, you know, the best school of computer science, is still the best school of computer science. It's a hard thing to sustain over such a long period of time, and it's because of their willingness to be innovative and take advantage of opportunities."

Cohon credits the success in research funding to faculty and philanthropy.

"It was entirely the result of faculty efforts and their excellence, creativity, collaboration," Cohon said. "But the kinds of funds you need to start up something, you can only really get through philanthropy, and getting that is a result of a partnership between the faculty and the deans and the university administration."

Because of anticipated federal research cutbacks, new funding opportunities are becoming increasingly complex.

The National Science Foundation (NSF) has yet to make their cuts as a result of sequestration but they will likely translate into 1,000 fewer grants to be awarded this fiscal year.

"We get more than our proportional share of grants because of the quality of our faculty and how hard they work. But cuts are cuts, and less is less. I worry especially about the impact of this on the new, young faculty who are just starting out and trying to build a program. They already feel a lot of pressure. The success rates for federal grants, even before the cuts, is already too low. The NSF is around 20 percent, I think, and the NIH is lower than that. So that's tough odds even when you're as good as our faculty are."

Cohon was quick to note the arts and humanities as well. The Center for Arts in Society was established in 2000, which had nearly 60 faculty members involved from nine departments and the University Libraries. Recent efforts included startups Conflict Kitchen and the Waffle Shop.

"The humanities have done very well during this period; they were a priority. We didn't do as much in those areas as we did in the others, but progress was made, and I think there's a lot to be proud of."
Community/Regional Success
Vartan Gregorian, president of the Carnegie Corp. and previously president of Brown University and the New York City Libraries, offered Cohon advice before he arrived in Pittsburgh.

"He said to me, 'Jerry, never forget that Carnegie Mellon and Pittsburgh are both great, but neither knows it.' He was right about that. I was surprised the degree to which he was correct," Cohon said.

Cohon has served as a cheerleader for the institution and the region.

One of the most successful collaborations has been between Carnegie Mellon and the University of Pittsburgh. Cohon calls Pitt's Chancellor Mark Nordenberg a good friend.

"He was wonderful in reaching out to me, even before I got here, to start building the relationship, and we had this shared commitment to working together for the good of both universities and the good of the region. We did a lot together, both in research and education but also in terms of economic development, joining forces to contribute to the city."

Another major change for Carnegie Mellon was its technology transfer policy, which ramped up the number of companies created, and led to an increase in jobs by streamlining the process and making it less burdensome for inventors and entrepreneurs. Plus, building the Robert Mehrabian Collaborative Innovative Center created what Cohon called a "magnet for tech companies that have come here."

The success of spinoff companies from the university has been tremendous. In the last 15 years, more than 300 companies have been created by Carnegie Mellon faculty and alumni with help from the university's start-up-supporting ecosystem. But it isn't enough yet.

"Many of them have been successful to a substantial extent but none has been the big success that we would like to see, where they became an anchor for the Pittsburgh economy that employs thousands of people," he said. "If we have a couple of companies achieve that, it would make it easier for the ones behind. Sort of the Silicon Valley effect."

It's a chicken-and-egg problem. Pittsburgh has many of the ingredients it needs: great technology, innovative entrepreneurs and initial venture capital funding. The human capital needs some improving, he said. For example, the pool of applicants of experienced sales and distribution professionals needs to be larger.

"In Silicon Valley you've got 5,000 who've had experience as a vice president for sales for a small company. We don't have that," Cohon said.

The other problem is that successful companies are getting to a point where they get acquired by bigger companies, largely in Silicon Valley.

"Thankfully, most of the time that company keeps the startup here so we don't entirely lose the people or the economic activity," he said. "But they don't become big companies, nor do they become the kind of wealth generators that this region needs to have."
Financial Strength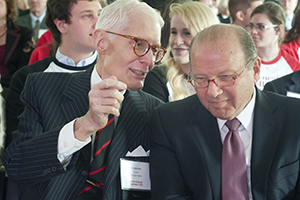 Coming from Yale, which in 2012 had an endowment of $19 billion, Cohon said he knew that CMU's endowment would be one of the greatest challenges.

"I wish someone would have told me exactly what the stock markets were going to do for the next 16 years, and we would have invested accordingly. That we didn't do better really is a source of regret for me; it's the thing that bothers me most," he said.

"Increasing the endowment also requires more fundraising and in this arena we've been very successful. Robbee Kosak has built a great Advancement organization, which has translated into success for the Inspire Innovation Campaign."

As the campaign nears its end on June 30, $1.16 billion has been raised so far (as of April 1).

Presidents serve as chief fundraisers for the university, and Cohon said he enjoyed getting to interact with people and building relationships.

"These aren't just any people. They're mostly Carnegie Mellon alumni, successful people and interesting. They are good people, and it's been fun and gratifying to get to know them," he said.

In 2004, Bill Gates visited Carnegie Mellon for the first time. During that visit, Cohon had exactly eight minutes to request a donation from the richest man in the world at that time. It was the first time they met.

"I think the most important thing I said to him was 'Bill, I can well imagine that every university president in the world wants to ask you for money, and many of them probably have. And one of the things you have to think about is if I give a gift to Carnegie Mellon how do I say no to this long list of other universities?'" Cohon said.

"He said, 'You're right, I do have to think about that.' I said, 'well, I have an answer for you. We are the only leading university in computer science that you haven't made a gift to. And there's no other university in our league.' He said, 'You're right.'"

In the end, the Bill & Melinda Gates Foundation gave $20 million for the Gates Center for Computer Science.

Another gift that stands out in Cohon's mind is that of Bill Dietrich, who he said was fun, interesting and unique.

"He was really focused on growing his assets as much as possible so he could give it all away," Cohon said. "And how can you do anything but love a guy like that? That's what he devoted the last 20 years of his life to."

Around Christmas time in 2010, Cohon visited Dietrich, a member of CMU's Board of Trustees, while he was in hospice care.

"I went to see him - just to see him - but I figured he must be close to the end, and I wanted to be sure I had a chance to say thank you and goodbye. I walked into his room, and there's Bill looking really good. He was much too thin, but other than that good color, typical Bill energy," Cohon said.

"I said 'Hi, Bill,' and I sat down. And he gives me a folder. I wasn't there for a business meeting. And he starts taking me through all of the details of his remarkable gift," Cohon said. "Now, I had an inkling of this because Bill had made known many years before his intention to give his money away, and that Carnegie Mellon would be a substantial beneficiary."

But what he hadn't known was just how large the gift, a record-breaking $265 million fund, would be, or how much money Dietrich had accumulated.

"It was astonishing. And I didn't know quite how to feel," he said. "I mean obviously this is a wonderful thing for the university but I went there to say goodbye to someone I liked to think of as a friend. He's one of our great supporters and advisers. And I didn't want him to think I was there to find out about money. It was totally out of the blue."
Bill Dietrich talks to Cohon during an event celebrating his record-breaking gift to Carnegie Mellon in 2011. Cohon said Dietrich spent the last 20 years of his life growing assets to give away. "How can you do anything but love a guy like that?"
Public Perception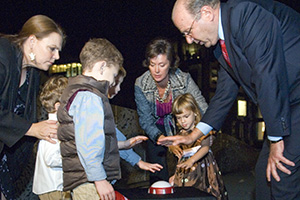 Cohon credits the late Randy Pausch, the renowned computer science professor who co-founded the Entertainment Technology Center, for helping push the university into the public spotlight with his inspirational "Last Lecture."

"Randy was a wonderful person," said Cohon, who felt devastated when Pausch told him about being diagnosed with pancreatic cancer.

Pausch delivered his Last Lecture in 2007, which has been viewed by more than 15 million people on YouTube. Until his death in 2008 he worked tirelessly to promote the university.

"He had an impact on me as a person and an impact on the university that was huge. We'll never be able to quantify it, but I believe that the increase in our applicant pool has at least some of the Pausch effect in it. Maybe even the retention rate. But it certainly made Carnegie Mellon known to a wider audience than it had been before. Which, of course, was entirely Randy's intention."

The book based on the lecture and co-written by Jeffrey Zaslow (DC'80), allowed the legacy to continue. Zaslow returned to campus annually to discuss the book with incoming freshmen. He died in 2012 in a car accident.

"Jeff, in a way, kept alive the Randy phenomenon. But he created his own, as he had his own special personality," he said.

While Pausch's story is a powerful example, the university has many more stories to share.

During his tenure, University Advancement has increased its marketing and media relations presence.

"Our colleagues are actively involved in keeping key media outlets aware of what Carnegie Mellon has done and is doing and can provide to them in the way of experts. That's been very proactive, and it's paid off. But the story is a better one, or a more compelling one, or there's more to it, if nothing else," Cohon said.

"For one thing, our global footprint is itself a story and puts us in many other countries within reach of, or of interest to, their media outlets. We're bigger, we do more research. We've had a lot of notable breakthroughs and achievements like the DARPA grand challenges, for example. And all of the neat robotics things we do and the work in life sciences, national book awards for poetry, Nobel prizes. All of those things."
President Cohon along with Jai Pausch (center) and her family punched a ceremonial button to light the Randy Pausch Memorial Bridge at Homecoming in 2009.
Moving Forward
In the year to come, Cohon's schedule will be a little different. He'll be taking a sabbatical before joining the departments of Civil & Environmental Engineering and Engineering & Public Policy.

"A sabbatical is a very welcome thing. It will be very valuable for me in getting myself back up to speed in my field so I can be an effective contributor," he said. "I really don't know where I'm going to go because I haven't had the time to think about it. And it's getting late."

He is considering visiting campuses that are strong in his field for two or three weeks at a time to see what they are doing.

"A sabbatical is also a good idea because it gets me off campus while Subra [Suresh] is getting established. I will be very supportive of him and do whatever he wants me to do, but he doesn't need me sitting in an office on campus."

As far as advice for the president-elect, Cohon doesn't think he'll need it.

"He's shown great instincts already, including by asking for advice," he said. "He and I have a lot of conversations yet to come about the university."

The fact is, Cohon said, the university is already on a good trajectory.

"I happened to leap on the rocket 16 years ago, and now, I'm going to leap off and Subra will leap on it. I think that presidents are capable of making course corrections to some extent, but the university has a real head of steam up. It did when I came, and it still does. I think we're just headed for more great things."