April 17, 2013
Family First for Carnegie Mellon's First Lady
By Piper Staff opdyke(through)andrew.cmu.edu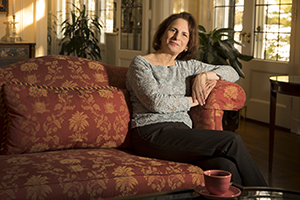 Carnegie Mellon's first lady is devoted to family: her own, the university and her clients.
"What I hope people will say about Jerry and me, is that we made everybody feel welcome to the university and made them feel a part of it," Maureen Cohon said in a recent interview.
"I really love the school, I love the people. I just feel so much a part of a big family."
High school sweethearts, the Cohons have been married more than 46 years.
"Jerry has always been a professor, and we always worked together on entertaining people and having students and faculty over. This has been an extension of what we've always done, working together," she said.
President Jared L. Cohon is very appreciative of all that his wife has done for him.
"She's been a wonderful first lady. She made a point of being visible early on, engaging with student groups, faculty and administrative spouses. I think she's been greatly appreciated by the community.
"It goes without saying that for a president to serve 16 years and still be married to the same spouse is a pretty powerful statement about how supportive the spouse was," he said. "There's little question that I'm here today in large part because of her."
Mrs. Cohon said her role as first lady has influenced her life, and the people she has met have opened her to new ideas.
"You'd think, by the time you're 50, you kind of know a little bit about everything, but I've learned a lot," she said.
Open Invitation
Shortly after her husband was named the university's eighth president, she asked then-Chairman of the Board Tom McConomy what was expected of her.
"He said to me: 'You can do anything that you want to,'" she said. "And that has been great advice. Fortunately, I like to do a lot of things."
Those words have become her motto, and she passed them along to Mary Suresh, who will serve as CMU's next first lady.
"She's very interested in what's going on and what she can do for the university," Mrs. Cohon said. "I think she'll be fabulous. She's very pleasant to be around, and everybody will enjoy getting to know her. I will be pleased if I can help her in any way."
One of Mrs. Cohon's initiatives was to create a program for spouses and partners of trustees and deans. Twice a year, the partners would visit campus during trustee meetings to attend lectures and to see the work of faculty and students.
"The partners love it," she said. "I remember from our first program, a couple of the partners were so intrigued about what they saw that they were willing to support the faculty in some way.
"The trustee partners have become a family. The trustees grumble that their partners know more about Carnegie Mellon than they do."
In addition to the Partners Program, Mrs. Cohon invites seniors to the President's residence annually. In recent years, two shifts were needed to accommodate the 300-400 students who have attended.
"I think it's important that the seniors have some time with the president and to see the president's home," she said.
Mrs. Cohon also has served as the honorary president of the Carnegie Mellon Women's Association, a group that provides awards for graduating senior women. She has hosted a reception at the president's home each fall and said she has enjoyed seeing the membership grow.
Mrs. Cohon has at times attended and hosted more than 100 events a year for the Carnegie Mellon community. Guests have included famous alumni or movie stars filming on campus such as Ted Danson and Michael Douglas, respectively.
"We have also met Nobel Prize winners and many other special people," she said. "These events are all wonderful."
But she hasn't attended every major event. Despite U.S. President Barack Obama visiting campus four times, she has never been to an appearance.
"I didn't want to take a ticket from faculty, staff or students," she said. "But I've seen him a lot on TV!"
Power of Attorney
Away from campus, Mrs. Cohon works as an attorney for Buchanan Ingersoll & Rooney on non-traditional family law, working to protect the rights of gay, lesbian and other unmarried couples.
She first became aware there was a need for this type of representation when CMU was discussing domestic partner benefits for faculty and staff in the late 1990s, something now in place.
She spent eight months researching the topic and possibilities about the potential of adding the specialty to the firm's offerings. Then-chairman and CEO Tom Vankirk told her to go for it.
"And he said, 'We're Buchanan Ingersoll, we're cutting edge and it's the right thing to do.' I still feel emotion when I tell that story," she said.
At the beginning, there were just a handful of clients and attorneys. Today, the firm has more than 40 attorneys working with the clients nationwide, and more than 200 clients in the Pittsburgh area.
"In the beginning it seemed like every client brought in something that we hadn't dealt with before. So we have lawyers who focus in all areas," she said. "The first case used attorneys who worked in estate planning, property and family law. That was my first experience in putting the practice into effect. And it was a big eye opener. As clients came in, we found so many different ways of making sure they were protected."
On the Homefront
Despite the demands on their time, their own family has never been far from their daily lives. Their daughter, Hallie (HNZ'00), earned a CMU master's degree, married another CMU graduate, Josh Dunner (DC'99, HNZ'00), and they became parents to Nathan, 9, and Solomon, 5. The family lives in Regent Square.
"I think we play a big part in their lives, and that's also been very important to us," Mrs. Cohon said. "Our grandchildren are very proud that my husband is president of Carnegie Mellon."
A highlight for the boys was when the entire family traveled to India. The subcontinent holds a special place for them since President Cohon has worked on water problems there for more than 30 years. With Carnegie Mellon's significant Indian student population, the country became even more important.
Mrs. Cohon recalled that on her first trip to India she soon found magic in the people.
"The Indian donors and alumni really embraced us. The spouses would take me to their special places. I really feel I have friends in India," she said.
In the coming year, family experiences will continue as President and Mrs. Cohon take a sabbatical.  
"Everybody's been saying, 'Oh gosh, are you sure you want to stay home with him?' I do, definitely. We get along very well!" she said.
Photo by Harry Giglio Photography. Maureen Cohon said people she has met through CMU have changed her outlook on life.