April 17, 2013
Educators Extraordinaire
Celebration Honors Top Teachers
By Piper Staff opdyke(through)andrew.cmu.edu
Give them an A+.
Faculty and staff who have achieved university-wide acclaim for their exceptional contributions to Carnegie Mellon education programs, effective and enthusiastic classroom teaching, compassionate and influential advising, and profound impact on others will be honored at a Celebration of Education beginning at 4:30 p.m., Tuesday, April 30 in Rangos 1 and 2 of the University Center. The events are free and open to the public.
The Celebration of Education consists of five main awards:
the Ryan Award
and the
Gelfand Award
, presented annually, and the
Doherty Award
, the
Academic Advising Award
and the Barbara Lazarus Award, given every other year.
In addition to the awards noted above, five up-and-coming junior faculty members will receive Wimmer Faculty Fellowships, faculty will receive College Teaching Awards and graduate students will be presented with the Graduate Student Teaching and Graduate Student Service awards.
Robert E. Doherty Award for Sustained Contributions to Excellence in Education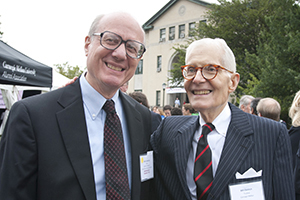 The stats speak for themselves.
For more than four decades John Lehoczky has been a nationally recognized statistician at Carnegie Mellon, where he has served in key leadership roles, helping to raise the Statistics Department to national prominence, creating new programs and elevating the humanities at CMU.
To recognize his impact, Lehoczky, dean of the Marianna Brown Dietrich College of Humanities and Social Sciences and the Thomas Lord University Professor of Statistics and Mathematical Sciences, is the recipient of this year's Robert E. Doherty Award for Sustained Contributions to Excellence in Education.
"John Lehoczky epitomizes the essence of the Doherty Award," said Joseph E. Devine, Dietrich College associate dean. "He has played a critical role in making his department, college and university a better place for both faculty and students. And, he has done this with selflessness and humility - always looking for the best possible way to serve, support and celebrate our students, faculty and institution."
In applying his research on stochastic modeling to problems in finance, Lehoczky led the creation of the university's master's degree program in computational finance (MSCF). The joint program between the departments of Statistics and Mathematical Sciences, the Tepper School of Business and the Heinz College is ranked No. 1 in the U.S.
"John's contributions have been the most important," wrote Steve Shreve, MSCF co-founder and professor of mathematical sciences. "If John had not been involved, the program would not exist."
As Statistics Department head from 1984-1995, Lehoczky helped the undergraduate program achieve national recognition. In 2000, he became dean of the Dietrich College and turned his focus to strengthening the humanities departments, which he believed was essential for Carnegie Mellon to realize its full potential.
He launched an ambitious Humanities Initiative, which led to the Humanities Scholars Program, the Humanities Center and the Center for the Arts in Society, all of which are endowed.
Lehoczky worked to advance brain science research and has been a strong advocate for developing CMU international programs, such as the Center for International Relations and Politics. He continues to help attract and retain world-class faculty and bolster the college's pioneering role in cognitive science, decision sciences and philosophy. All the while, he continues to teach and conduct research.
John Lehoczky (above, left) is pictured with Bill Dietrich in 2011, when Dietrich's $265 million gift to the university was announced. As part of that gift, the College of Humanities & Social Sciences was renamed the Marianna Brown Dietrich College of Humanities & Social Sciences, after Dietrich's mother.
The William H. and Frances S. Ryan Award for Meritorious Teaching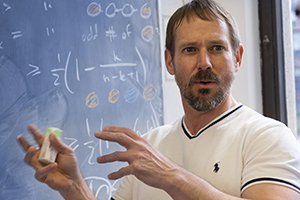 Eric Grotzinger calls it "The Mackey Effect."
That's how he explains why majors and non-majors alike pack a mathematics lecture hall; why the best young "mathletes" come to Carnegie Mellon; and why the number of math majors at CMU has nearly doubled in the past 10 years.
Grotzinger, associate dean for undergraduate affairs at the Mellon College of Science, coined the term in honor of John Mackey, teaching professor and associate head of the Mathematical Sciences Department and this year's winner of the William H. and Frances S. Ryan Award for Meritorious Teaching.
While many factors have contributed to the department's recent successes, many believe that it's no coincidence that the number of students taking math courses and choosing to major in math have skyrocketed since Mackey joined the CMU faculty in 2003.
"John is a phenomenon in the classroom, a caring mentor and a relentless advocate for quality undergraduate education," said Tom Bohman, the Alexander M. Knaster (E'80) Professor and head of the Mathematical Sciences Department.
Mackey was singled out by his nominators for his enthusiasm for math and teaching, and his dedication to all students. He helps any student that might be struggling in a math class, not just the ones he teaches. He also spends countless hours recruiting the best mathematical minds to come to CMU and advising the Math Club.
Mackey helped to reinvent the first-year Concepts of Mathematics course, which is now often referred to simply as "Concepts with Mackey." Under his direction, the course, which is intended to be the introductory math course for mathematical sciences, computer science and electrical and computer engineering majors, is now a sought-after elective for students of all majors. Mackey's classes, large and small, often have waiting lists and rarely have an empty seat.
"John is overflowing with passion for mathematics, and this passion simply bleeds into anyone who has the pleasure of taking a class with him," said Douglas Sterling (S'11). "He just makes math fun."
John Mackey (pictured above) shares a passion for teaching mathematics with majors and non-majors alike.
The Award for Outstanding Contributions to Academic Advising and Mentoring
Ty Walton, director of the Carnegie Mellon Advising Resource Center (CMARC), is an innovator who embraces change, calling upon herself and her staff to play many roles including advocate, mentor, adviser, career consultant, personal counselor and life coach.
The university is recognizing her contributions with this year's Award for Outstanding Contributions to Academic Advising and Mentoring.
Walton has spent more than 25 years at CMU advising students, leading programs and being an active force in increasing the yield, retention and graduation rates of underrepresented minority students.
Since 2000, Walton has directed the Summer Academy for Mathematics and Science, which aims to make "good students excellent." More than 1,000 high school juniors and seniors have attended the program. While many of SAMS graduates have enrolled at CMU, others have gained admission to Ivy League schools and other top-ranked research universities.
When it comes to advising undergraduate students, former advisees and student workers have described Walton as giving tough love and someone who "fixes broken spirits."
"She is the glue that holds CMARC together and the first-aid kit to students who have been discouraged, put down and are emotionally distraught," one alumnus wrote.
Colleagues see her influence as well, and say that she engages students in such a way that they take ownership of their development while at the university.
"I don't see Ty as an undergraduate adviser, rather a lifetime adviser, due to the longevity of the relationships as well as the sustained commitment on her part. There are many students that meet Ty as a young student and still call her for advice as a seasoned professional," said Damian Dourado, who worked with Walton before becoming manager for Pre-College Programs at Carnegie Mellon in Qatar.
Rea Freeland, associate dean for special projects at the Mellon College of Science, said that she admired Walton's ability to retain details about so many interactions with students.
"CMARC is a wonderfully welcoming space where it's easy to stop by, hang out and see 'Ms. Ty,'" Freeland wrote.
Ty Walton (pictured above) has been a mentor for hundreds of Carnegie Mellon students for more than 25 years.
Mark Gelfand Service Award for Education Outreach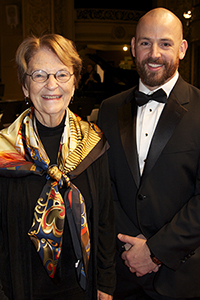 Natalie Ozeas (A'60, '69) has a deep love for listening to music and sharing it with others, and through her work at Carnegie Mellon she has discovered how to do that in a pretty big way.

Ozeas created the CMU Urban Music Education Program, which annually reaches about 400 Pittsburgh Public Schools and Wilkinsburg School District students in grades 4 through 12, helping these students find an appreciation for music that's relevant to them.

For this reason, Ozeas, a professor of music education and director of Graduate Studies for the School of Music, is the recipient of the Mark Gelfand Service Award for Education Outreach.

Through the program, students get to dabble in the classics and learn to rap as well. Some students even performed on stage during a fall 2012 concert at Carnegie Music Hall with the Carnegie Mellon School of Music Wind Ensemble. Side-by-side, they played Michael Jackson's "Thriller" on wind instruments.

Ozeas isn't surprised by the program's success. She believed in it from its inception, which originally was a professional development program for teachers but grew to include the children when teachers saw how they responded to learning about music. Many have seen a "profound difference" in their students because of it.

"The pride which I see emanating from my students when they are able to perform songs and create music is both encouraging and incredible," said nominator Adrianne Davis Kelly of Pittsburgh's Minadeo School, part of the Pittsburgh Public Schools. "Beyond any doubt, this has fostered confidence within these students."

Similar letters and accolades poured in for Ozeas - including nominations from other educators, colleagues in the School of Music, foundation representatives, the College of Fine Arts administration and countless others. Her work is noble, though she admits it's not always easy. It is, however, always rewarding ... and it boils down to a simple focus, she said.

"Our goal is to make music accessible to children in all schools, and we want them to relate to the music they hear in their own households and neighborhoods."

Natalie Ozeas is pictured above with Stephen Story, CMU Associate Conductor of the Carnegie Mellon Wind Ensemble, during a side-by-side concert as part of the Urban Music Education Program.
College Teaching Awards
Below are this year's recipients.

Carnegie Institute of Technology
Benjamin Richard Teare Jr. Teaching Award
Lawrence Pileggi
Tanoto Professor, Department of Electrical & Computer Engineering

C. Fred Higgs III
Professor, Department of Mechanical Engineering

College of Fine Arts
Henry Hornbostel Teaching Award
Joseph S. Mannino
Professor, School of Art

Dietrich College of Humanities & Social Sciences
Elliott Dunlap Smith Award for Teaching and Educational Service
Rebecca Nugent
Associate Teaching Professor, Department of Statistics

H. John Heinz III College
Martcia Wade Teaching Award
Silvia Borzutzky
Teaching Professor of Political Science and International Relations

Mellon College of Science
Julius Ashkin Teaching Award
Giovanni Leoni
Professor, Department of Mathematical Sciences

Richard Moore Education Award
Gregg Franklin
Professor, Department of Physics

School of Computer Science
Herbert A. Simon Award for Teaching Excellence
David G. Andersen
Associate Professor, Department of Computer Science

Tepper School of Business
Gerald L. Thompson Teaching Award in the B.S. Business Administration Program
Brandy Aven
Assistant Professor of Organizational Behavior and Theory

Richard M. Cyert Teaching Award in the B.S. Economics Program
Laurence Ales
Assistant Professor of Economics

MBA George Leland Bach Excellence in Teaching Award
Jeffrey R. Williams
Professor of Business Strategy

Graduate Student Teaching Award
Julie Bowman
Department of English

Graduate Student Service Award
Matthew L. Beckler
Department of Electrical & Computer Engineering

Wimmer Faculty Fellows
These fellowships are made possible by a grant from the Wimmer Family Foundation and are designed for junior faculty members interested in enhancing their teaching through concentrated work designing or redesigning a course, innovating new materials or exploring a new pedagogical approach. Fellows work in close collaboration with Eberly Center colleagues and receive a stipend to acknowledge the work it takes to improve one's effectiveness as an educator.

Below are the 2012-2013 fellows:
Emma Brunskill
Assistant Professor, Department of Computer Science

Aditya S. Khair
Assistant Professor, Department of Chemical Engineering

Fatma Kilinç-Karzan
Assistant Professor of Operations Research, Tepper School of Business

Karen R. Thickman
Assistant Teaching Professor, Ray and Stephanie Lane Center for Computational Biology

Christopher N. Warren
Assistant Professor, Department of English