April 17, 2013
Awards Ceremony Has a Familiar Feel for Winning Drama Students
By Pam Wigley pwigley(through)andrew.cmu.edu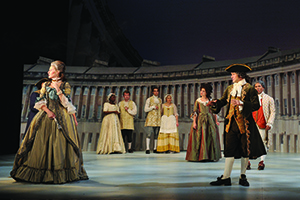 A School of Drama grad and current student recently received national awards for sound achievement and costume design during a ceremony in Milwaukee, but the lighting and visual effects made them feel right at home.
Erik T. Lawson, who received his master's degree last May, received the Robert E. Cohen Sound Achievement Award. Costume designer Albulena Borovci, who will receive her master's degree this May, was the winner of the Zelma H. Weisfeld Costume Design & Technology Award.
The awards were presented by the United States Institute for Theatre Technology (USITT) for Young Designers & Technicians in the Performing Arts during its annual Conference & Stage Expo in Milwaukee.
What made Milwaukee feel more like CMU's Chosky Theatre perhaps, was that this year's ceremony featured a multimedia production that included lighting and visual effects coordinated by 18 School of Drama students and several faculty, led by Tina Shackleford.
Shackleford, an assistant professor of stage management, said one difficulty was that not all the students who worked on the project could be at the conference as several were in rehearsals for on-campus productions that week.
"It's an interesting challenge to work on an event that you are not going to be able to see," Shackleford said. "But it's definitely something they will encounter in the world - planning an event when you can't just walk into the space and say, 'Yes, that light here and this table there.'"
Lawson, a Littleton, Colo., native who works as a sound designer in New York City, was nominated by Associate Professor of Sound Design Joe Pino. Lawson submitted examples of his work at CMU, including productions of "The Alice Project," "A Midsummer Night's Dream" and "Suddenly, Last Summer." He also has composed sound designs for the Cincinnati Playhouse in the Park, Pittsburgh Irish & Classical Theatre, and New York's Incubator Arts Project and the Undergroundzero Festival.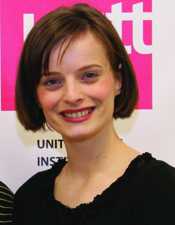 Borovci, a native of Kosovo, was nominated by Design Professor Susan Tsu. She submitted costume designs from CMU productions, including those she did for the fall 2012 production of the 1775 British comedy "The Rivals." A reviewer for the Pittsburgh City Paper wrote, "Albulena Borovci's costumes are drop-dead gorgeous; the ladies' gowns suggest magnificent ships in full sail."
Pictured above, Albulena Borovci designed costumes for last fall's production of "The Rivals."