April 17, 2013
Building Blocks
Guiding Campus Development to the West and Northwest
By Bruce Gerson bg02(through)andrew.cmu.edu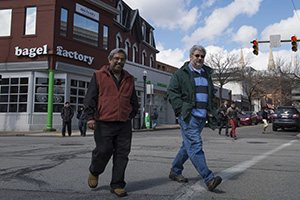 With an eye toward the west and northwest of the Pittsburgh campus, Carnegie Mellon's Simonds Commission has drafted 10 guidelines for future growth and development.
The principles, authored by the 14-member committee of trustees, faculty and senior administrators chaired by university trustee J. Lea Hillman Simonds and Vice President for Campus Affairs Michael Murphy, will guide new projects and renovations to CMU properties to the west of Morewood Avenue along Forbes and Fifth avenues, and to the north on Craig Street and its Henry, Winthrop and Filmore street arteries.
These parcels include the recently acquired Catholic Diocese structures across from Central Catholic High School.
Murphy said the principles are an extension of the recently adopted Pittsburgh Campus Master Plan, guided by Ralph Horgan and Bob Reppe, associate vice provost and director of design for Campus Design and Facility Development, respectively, and would be used to guide development in other areas of campus as well.
The 10 principles, which will be up for adoption by the Board of Trustees at its May meeting, cover the areas of building, community context, space and movement.
Building
Architecture:
Building and landscape design should be innovative and contemporary, yet reflect the culture, history, and sensibilities of the university; facilitate student, faculty and staff interactions; increase connectivity; and enhance campus life.
Safety and Security:
Design standards and guidelines should embrace the university's overarching values of openness, engagement, collaboration and community while promoting the safety and security of building occupants and visitors.
Sustainability:
The highest level of environmental practices should be integral to the design, construction and management of all structures and open spaces, consistent with the university's sustainable and green practices.
Community Context
Mixed-Use:
In high public access areas that include street fronts, sidewalks and pedestrian arteries, such as Craig Street, visibility and easy access to commercial and cultural activity should be most prominent, with residential, administrative, academic and research uses "above and behind."

Neighborhood Compatibility:
Urban design principles must be embraced to complement the neighborhoods and the campus.
Space
Edges, Entrances and Their Connections:
Architecture and landscape, rather than signage alone, should allow for subtle yet iconic demarcations to define campus boundaries.
Open Space:
Open spaces should increase connectivity within the campus and to adjacent areas and enhance cultural life, offering opportunities for individual reflection, casual conversation, recreation and academic and student life activities.
Public Art:
Engaging public art reflecting the diverse culture of the university and region should be incorporated into all new building projects and renovations.
Movement
Multi-Modal Transportation:
New building projects should promote campus and community circulation and engagement, and connect campus and non-campus entities. Where possible, pedestrian, bicycle and public transit pathways should take precedence.
Universal Design:
All facilities and open spaces should be accessible to all potential users in compliance with ADA codes and in support of the university's commitment to an open and inclusive community.
"Mixed-Use and Neighborhood Compatibility were the two most compelling principles, although also ones in which there was a great deal of consensus among committee members," Murphy said. "You want the street front to be urban and vital, you want it to include lots of food and retail shops. You want residential and administrative units above and behind. You don't want those functions on the street front because they don't have that kind of vitality."
Murphy said one of the most interesting discussions the committee engaged in was on Edges, Entrances and Their Connections. He said as opposed to large signage, the committee felt that landscaping, lighting, streetlight banners, custom sidewalks and iconic CMU images such as the thistle would better serve as campus markers.
"You want the campus to feel porous. Still, you want people who come onto campus to feel that they're in a special place," Murphy said.
Task Forces
In addition to creating the 10 guidelines for future development, the Simonds Commission has formed ongoing task forces to focus on four specific components to campus development to the west and in the northwest quadrant.
Horgan leads the CMU-affiliated Hotel and Conference Center Task Force. A feasibility study is underway with potential locations identified along the north side of Forbes near Craig and on Craig itself.
Reppe chairs the Forbes Avenue Traffic Flows Task Force. The task force has developed a recommendation to transform Forbes into three lanes - one lane in each direction with a left turning lane at intersections - between Margaret Morrison Street and Craig. Additional pedestrian crossings and traffic lights, wider sidewalks, and dedicated bike lanes also are recommended. This concept was first introduced during discussions surrounding the Pittsburgh Campus Master Plan.
The Craig Street Task Force, chaired by Murphy, will work with Craig Street property and business owners and CMU's Remaking Cities Institute to develop a plan to further revitalize the mixed-use corridor, specifically the north end of Craig toward Fifth.
The Community Partners Task Force, led by Vice President and General Counsel Mary Jo Dively, met with the Carnegie Libraries, Carnegie Museums, Central Catholic High School, the Parks Conservancy, Phipps Conservatory, the University of Pittsburgh, UPMC, WQED and the city to gauge existing relationships and partnerships, which are seen as universally strong.  The work of this task force will continue within the existing Community Partners standing committee, chaired by Jennifer Meccariello Layman.
Murphy said he looks forward to the opportunities for the evolution of the campus to be guided by the work of the Simonds Commission, which he praised for its diligence, insightfulness, vision and passion for the university.
Craig Street is among locations eyed for future university growth and development.