September 05, 2012
Summer Snapshots
President Obama Makes Campaign Stop at CMU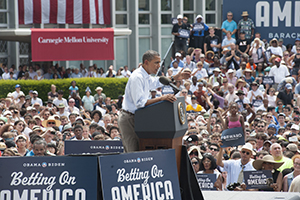 U.S. President Barack Obama visited Carnegie Mellon's Pittsburgh campus July 6 during his two-day "Betting on America" campaign bus tour through Ohio and Pennsylvania. Obama spoke on the College of Fine Arts (CFA) lawn, where several thousand supporters braved temperatures in the high 90s. Obama emphasized the need for education. "We've got to invest in our young people so they get the best education. A higher education is an economic necessity," he said.
Prior to his talk, Obama met CMU President Jared L. Cohon, faculty member Gary Fedder, technical co-lead for his Advanced Manufacturing Partnership, Student Body President Will Weiner and Devin Hentz, a student in Carnegie Mellon's Summer Academy for Math and Science.
Mobile Spray Park Makes a Splash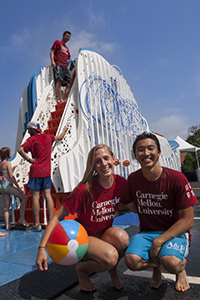 A new student project offers filtered fun for city neighborhoods. PURIFLUME, a mobile water system with spray park features, not only provided a way to cool off during Pittsburgh's record summer heat but also is being viewed by city officials interested in its potential for conserving
and filtering water.
Designed and built by a group of students under the direction of Professor John Folan in the Urban Design Build Studio (UDBS), the unit has features and elements commonly found in a municipal spray park such as a water slide and jet sprays.
Nicknamed the "Eco-Beastie," the huge neon-colored unit offers a sustainable alternative to pools that can be resource intensive to maintain.
Silicon Valley Campus Celebrates Graduation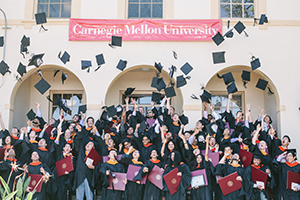 Sixty-three students from Carnegie Mellon Silicon Valley's graduate programs received their diplomas on Aug. 12. The class of 2012 is the campus'10th anniversary class. More than 600 students have received diplomas there.