September 05, 2012
Steel Giants
CMU Artist Labors To Honor Workers
By Heidi Opdyke opdyke(through)andrew.cmu.edu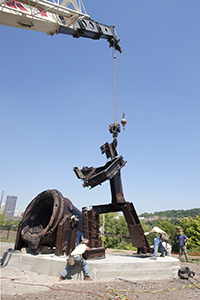 Steel of a different sort was rolling out of the former LTV mill in Hazelwood in August.
University photographer Tim Kaulen and 21 other artists of the Industrial Arts Co-op recently created two 20-foot tall steelworker sculptures for the South Side Riverfront Park near the 18th Street boat launch.  Workers from the P.J. Dick Corporation and Century Steel Erectors recently transported the works of art to their new home.
The sculptures, titled "The Workers," were dedicated during Labor Day weekend. Kaulen said what began as a tribute to steelworkers, unions and other labor forces in the city is now about all of the people who go to work every day.
"The piece itself has a pretty broad scope of support, and it's grown since it's original conception from a City of Pittsburgh commission to a community-supported project," he said. " I think the project theme has grown based on the support for the project. It's become supportive of the working spirit that we all share collectively from our history of being in Pittsburgh."
The sculptures have been nearly 15 years in the making. In 1997, the City of Pittsburgh and The Heinz Endowments commissioned the piece.
The materials that form the giants are steeped in Pittsburgh's history. The artists used steel I-beams from the Hot Metal Bridge and scrap metal from the coke plant site where it was assembled. The giants labor over a hot metal ladle that was rescued and refurbished by Casey Equipment.
Kaulen has a background in making larger-than-life creations. The 2009 PCA Artist of the Year has worked with various scrap yards and construction companies to recycle materials into public art. A recent project focused on 1,500-pound versions of antique mechanical toys.
"I think there's drama that comes from scale," Kaulen said. "It's definitely interesting to me. And considering the landscape and topography of Pittsburgh, I feel drawn to create things to step above the horizon line."

"The Workers" have been installed at the South Side Riverfront Park.