September 27, 2012
Twitter Exec Seeks CMU Students for New Startup
Twitter co-founder and executive chairman Jack Dorsey sends new employees back to square one in his latest venture.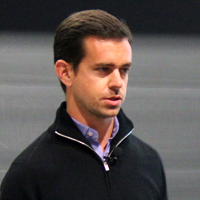 SquareOne is the name of an onboarding process that offers an introduction to the culture of Dorsey's new mobile payment startup, Square Inc. His new company has 400 employees and is expanding its workforce as it begins to grow internationally.

"None of us worked in the financial industry," Dorsey said of his initial team, but his goal is to make financial transactions as effortless as possible for individuals, small businesses and large organizations.

The Career and Professional Development Center hosted Dorsey and his team on Wednesday as part of a college recruiting tour for Square that included stops at the Massachusetts Institute of Technology and Princeton University.

Dorsey shared his thoughts on entrepreneurs, founders and disruption to more than 350 students who packed Rashid Auditorium. To him, being an entrepreneur or a founder is an attitude — not a job.

"Anyone in the company can have a founding moment," Dorsey said. "A founder recognizes intersections of technology and society and brings people to that intersection faster than anyone else."

He met with computer science and electrical and computer engineering faculty and students in the afternoon to learn more about the schools' selectivity and curriculum and to discuss opportunities at Square.

"We recruit from schools that are a good fit for the challenges we face," Dorsey said. "The project-based work students complete here is very helpful to us."

Jim Puls (CS'06), an IOS developer for Square, accompanied Dorsey on the trip and was on campus earlier this month to recruit at the Technical Opportunities Conference.

"The people at CMU taught me to have an appreciation for doing things right," Puls said.
Dorsey will return to Pittsburgh in October to participate in the One Young World Conference.