September 05, 2012
Retail Detail
AndyVision Looks To Improve Shopping Experience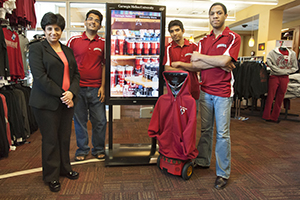 You're shopping and you just can't find what you're looking for. You know it's here, somewhere, but you just can't put your finger on it.  And there's nobody around to help.
It's an all-too-familiar scene that Priya Narasimhan and her team of graduate students aim to resolve with new technology, which they hope will improve the experience for consumers as well as sales staff and retail managers.
"As I talked to retailers, I realized that store staff don't always know where all of the items are located either," said Narasimhan, an associate professor of electrical and computer engineering and computer science, and head of the Intel Science and Technology Center for Embedded Computing at CMU. "I saw a need for real-time product location and inventory information in everyone's hands."
Called "AndyVision," the prototype robotic inventory system centers around an autonomous robot. The robot, nicknamed ScotBot, patrols the aisles and shelves using a high-resolution camera to generate a visual of the sales floor for an in-store, interactive touchscreen that directs customers to the product their seeking. The robot also will send an electronic message to sales staff when an item is running low or has been misplaced.
AndyVision creates the visual through the real-time fusion of image-processing and machine-learning algorithms, a database of images of the store's products, a map of the store's layout, and sensors to help the robot navigate autonomously and to prevent it from running into things.
This fall AndyVision, still in the research and development stages, is being field-tested in Carnegie Mellon's University Store.
"We are very fortunate to have a pilot research partner with the CMU store," Narasimhan said. "It's unheard of and unprecedented for a research group to have access to a production environment, a productive store, where we can explore the challenges they face everyday and work with them side-by-side to deploy, pilot and study newly developed experiences."
Ryan Wolfe, director of Campus Services, and Angela Tumolo-Neira, marketing specialist for Campus Services, are optimistic and excited about the partnership with AndyVision.
"I believe AndyVision can make a real difference in retail," Wolfe said. "It has the ability to integrate some of the benefits of a virtual shopping experience into a brick and mortar store, such as improved navigation and fast product location."
"It's an exciting partnership. It's fun to use the University Store as a research lab," Tumolo-Neira said.
Intel Chief Technology Officer Justin Rattner also is enthusiastic about the cutting-edge project.
"If successful, the project will make future retail stores more successful while ensuring customers find the products they want to buy," he said.
Narasimhan's team includes Information Networking Institute and Electrical and Computer Engineering (ECE) Senior Systems Scientist Rajeev Gandhi; ECE post-doctoral researcher Kunal Mankodiya, and ECE students Jonathan Francis, Amit Krishnan and Utsav Drolia.
Associate Professor Priya Narasimhan and graduate students Amit Krishnan, Kunal Mankodiya and Jonathan Francis developed ScotBot to take inventory of the university's bookstore.