September 05, 2012
Alumna Wins Entrepreneurial Contest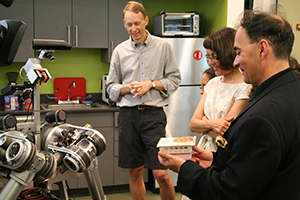 Tess Lojacono (A'82) is returning to Pittsburgh with a dream.
Lojacono, a graduate of Carnegie Mellon's School of Art, recently won $100,000 in Pittsburgh's Experienced Dreamers contest, a national competition that invited entrepreneurs 45 years of age or older to submit proposals to launch their dream venture in Pittsburgh.
Lojacono already has started the process of establishing her business, Fine Art Miracles, a program that offers arts courses to residents of assisted living facilities and nursing homes. Within the year she plans to expand the business nationally, formalizing curriculum for facilities in other markets.
Lojacono will receive $50,000 when she completes her move from East Aurora, N.Y., to Pittsburgh this fall. After living in Pittsburgh for one year, the remaining $50,000 will be placed in a charitable fund at The Pittsburgh Foundation to be used by Lojacono in support of Pittsburgh-based nonprofits.
"Pittsburgh has been successful in attracting and retaining young talent. U.S. Census figures show that the number of young adults in the City of Pittsburgh increased by 17 percent between 2000 and 2010, and we are making progress in retaining families through the Pittsburgh Promise, a program that offers a four-year, $40,000 college scholarship to students who attend four years of high school in the Pittsburgh Public Schools District," said City of Pittsburgh Mayor Luke Ravenstahl. "We are also one of the few cities in the country with an urban population that is growing faster than the surrounding suburbs. This contest invited people planning a later-in-life career move to take a fresh look at Pittsburgh and all that it has to offer."
Forbes recently named Pittsburgh one of the Best Places for a Working Retirement for its low cost but high quality of living, affordable homes and solid job growth. Other recognitions include America's Most Liveable City (Economist), Best City for Millennials (24/7 Wall St.), Top 10 Comeback Cities (Forbes), 2nd Best Performing City in America (Business Insider) and Top U.S. Cities Where People are Hiring (Gallup/Business Insider)
After receiving her official welcome, Lojacono toured Pittsburgh cultural attractions; the Quality of Life Technology Center, a joint effort of Carnegie Mellon and the University of Pittsburgh; and threw out the first pitch at a Pirates game.
"My family and I are absolutely thrilled at this opportunity to embrace Pittsburgh and all it has to offer. I have no doubt that Fine Art Miracles will thrive here! I look forward to giving back to this great community with my work, and with the creation of new local jobs, allowing others to present Fine Art Miracles' programs in additional markets."
The Experienced Dreamers contest was made possible by the support of The Buhl Foundation, the Claude Worthington Benedum Foundation, the Richard King Mellon Foundation, The Heinz Endowments, the Jewish Healthcare Foundation, The Pittsburgh Foundation, Leadership Pittsburgh Inc., Allegheny County and the City of Pittsburgh.
Experienced Dreamer Winner Tess Lojacono and her husband receive a microwaved meal from HERB as Mike Vande Weghe, a senior research engineer at the Robotics Institute, looks on.