September 05, 2012
Class of 2016 Has Most Women Ever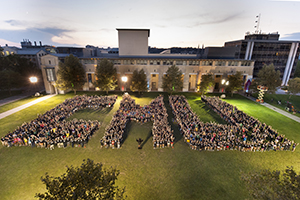 The Class of 2016 just set foot on the Pittsburgh campus, and already they are changing the university.

The incoming first-year class is one of the most diverse and brightest on paper, with an all-time high of 45 percent of the class being female.

"The highest number we've had in the past was about 43 percent three years ago, and that was up from about 35 percent when I first came here. It's something we have worked to achieve for a long, long time," said President Jared L. Cohon to the students and families who arrived Sunday, Aug. 19. "I couldn't be more pleased. It's important for a lot of reasons. As a matter of fact, women are smarter than men, something I've learned in my 45 years of marriage."

Cohon also said it was important that more women choose to pursue science and technology along with all the other programs at Carnegie Mellon.

"For the longest time I felt that 40 percent [of the first-year class being female] was our glass ceiling, and we couldn't seem to break through it," he said. "I'd like to think that 45 is on our way to parity. That would be quite an achievement given our engineering and science emphasis."

Cohon's remarks to the audience were upbeat and often humorous. He said later he had mixed emotions about the event because it was his final welcome address as the university's chief administrator. He told the crowd in the Baker Hall lawn tent that his final year as president would wrap up June 30, 2013.

"It is an incredible privilege, a tremendous honor, I've loved every minute of it, but change is a good thing," he said. He added that the goal of the Board of Trustees is to announce his successor in March or April of next year to provide a smooth transition.

As a president, father and grandfather, Cohon said he couldn't resist giving some advice to students and parents who were experiencing their own transition.

He urged students to take advantage of everything CMU has to offer.

"I met a young man from Iowa who's majoring in mathematics and music. That's the kind of thing I'm talking about," he said. "If you're an engineering major, please be aware that you're right next door to one of the greatest arts conservatories in the world. If you're an architect don't forget that you're a stone's throw away from the greatest school of computer science in the world."

He encouraged students to experiment by annually taking one course that "makes your parents mad, as in 'That's what we're paying all this money for?!'"

"It may turn out to be your passion," he said. "Even if it isn't, it will be one more thing you'll know something about."

Cohon counseled students to grow personally by interacting with other students, faculty and staff and by participating in activities and organizations. "Your evolution as a human being is what the residential college experience is all about."

His last bit of advice for students has become more emphatic over the years: To be safe, take care of themselves and watch out for classmates.

"Our entire Student Affairs operation has been organized to be there to support you. That's why they exist. Everyone needs help of some sort at some time. The help is here. All you have to do is to reach out."

For parents, Cohon advised them to let go. "Their achievement of being accepted at CMU is every bit as much your achievement as well. You got them ready; you prepared them for this big step forward into adulthood. It's time to let them go.

"I promise it will be OK."
By The Numbers
Class of 2016 Pittsburgh campus
Anticipated enrollment: 1,429
Gender distribution: 45 percent female/ 55 percent male
Countries represented: 37
States represented: 46
International: 16 percent
U.S.: 84 percent
   Regional breakdown of U.S. population:
   Middle Atlantic: 50 percent
      (includes 15 percent from Pa.)
   West: 18 percent
   South: 12 percent
   New England: 9 percent
   Midwest: 6 percent
   Southwest: 6 percent
Average SAT Scores
Critical Reading: 678
Math: 729
Legacy students [parent(s) are CMU alumni]: 13 percent
*As of press time, registration was still under way at the Qatar campus, where more than 100 first-year students are expected to enroll.
Orientation counselors usher in first-year students for Playfair, billed as the world's largest ice breaker.