September 05, 2012
Cave Art Ignites Poet's Imagination
By Heidi Opdyke opdyke(through)andrew.cmu.edu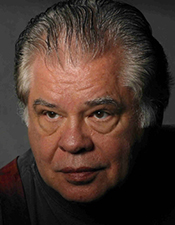 If you haven't had a chance to visit southwest France, upcoming speaker Clayton Eshleman will take you there in his presentation.
Eshleman, an American poet, translator and editor, will share rare images and discuss his study of Ice Age cave art of Lascaux in the Dordogne region at 4:30 p.m., Thursday, Sept. 20 in Porter Hall 100 (Gregg Hall) as part of the Victor M. Bearg Science and Humanities Scholars Speaker Series.
His lecture, and a book of prose and poetry on the subject is called "Juniper Fuse: Upper Paleolithic Imagination & the Construction of the Underworld."
The book was named after the primitive hand lamp wicks that illuminated the caves. But it's creativity that Eshleman hopes to ignite.
Until he and his wife started researching the caves in the 70s, he said they had been in the domain of paleontology.
"Nobody had gone into the caves to try and connect them to imagination," he said. "I'd like for an audience to realize this is a part of our human heritage. This is - as we really understand it - now the back wall of our imagination."
It's an interesting thing for a poet to take on a big exploratory project, Eshleman said. He described the work as a "saturation job," a phrase coined by poet Charles Olson.
"Olson was one of the poets I admire the most," he said. "[He] was very interested in prehistory and made some stabs at it, but never got to the caves. He was poor, couldn't afford to go to Europe but he did a lot of his work in the library. To some extent I was taking a hint at what Olson made a stab at and realized a project."
If the opportunity arises, he recommends seeing the works first-hand. His next publication, "The Price of Experience," is due out in October and can help people plan an adventure. Like "Juniper Fuse," the 400-page book mixes genres including poetry, prose, translations, journals and lectures that he has given while taking groups on cave tours.
"Rent a car, and give yourself about a week," he said. "The caves are out in the country and with a little planning you can have an extremely interesting trip."
The professor emeritus at Eastern Michigan University has received international acclaim for his poems, essays and translations of poetry created with co-translators. Among his accolades are a National Book Award, a Guggenheim Fellowship, numerous grants from the National Endowment for the Arts and the National Endowment for the Humanities, and two Landon Translation Prizes from the Academy of American Poets.
He founded and served as editor of two influential literary journals, "Caterpillar" (1967-1973, 20 issues) and "Sulfur" (1981-2000, 46 issues). During his career he has published more than 40 books. He published three collections of poetry between 2008 and 2012 - "The Grindstone of Rapport: A Clayton Eshleman Reader," "Anticline," and "An Anatomy of the Night;" and three translations - "Curdled Skulls" by Bernard Bador, "Endure" by Bei Dao with Lucas Klein, and "Solar Throat Slashed" by Aimé Césaire with A. James Arnold.
Along with "Juniper Fuse," in the past decade Eshleman has published works of prose "Companion Spider" and "Archaic Design."
The Bearg Science and Humanities Scholars Speaker Series is supported byan endowed gift from alumnus Victor M. Bearg (S'64).

Clayton Eshleman