October 16, 2012
New Building To Inspire Collaboration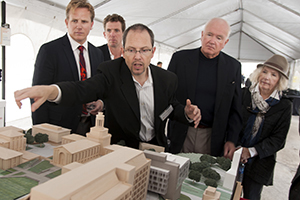 While being a home for innovation, the Sherman and Joyce Bowie Scott Hall will be a marvel in itself.
Scott Hall, which will house the Wilton E. Scott Institute for Energy Innovation, the Department of Biomedical Engineering and nanotechnology efforts, will extend over Junction Hollow in what is now a service area south of Hamerschlag Hall. By connecting to and between all of the surrounding buildings, the new facility will be just steps from hundreds of CMU faculty, researchers and staff.
The roof of the Claire and John Bertucci wing of the building will extend Henry Hornbostel's classic Mall between Hamerschlag and Wean halls and the pedestrian walkways. The glassy facade of Scott Hall will frame views of the Carnegie museums. Future plans include a potential bridge spanning Junction Hollow to Craig Street, which could extend future connections and university growth.
Isaac Campbell is founding principal of Office 52, who is leading the building's design team. Campbell spoke during a Sept. 22 ceremonial ground-breaking for the building and said the exterior of the building will have iridescent glass that will reflect patterns from different angles and at times will reflect the transformative nature of the science taking place inside.
The interior of the building, including the Arthur C. Ruge Atrium where visitors will be greeted, will be filled with daylight and have a network of shared research facilities woven together with a variety of public and social spaces.
"Inside the building, researchers will be working on some of the most challenging and pressing problems of our time," Campbell said. "All of this will create an environment where researchers will be more comfortable to work more collaboratively, be more creative, and hopefully innovate more effectively."
Isaac Campbell (center) shows a model of campus to Sherman Scott (E'66) (right) and Joyce Bowie Scott (A'65).