October 16, 2012
Q&A: Heidemann Balances Interests in Business & Art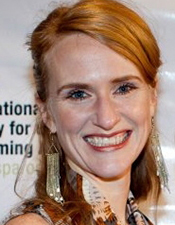 Kathryn Heidemann (HNZ'04) was recently named to Pittsburgh's 40 under 40 list. But for the director of the Master of Arts Management (MAM) Program, 25 is the number of interest.

With MAM celebrating its silver anniversary this year, Heidemann sat down with the Piper to discuss growing up abroad, the MAM Program and her passion for arts management.
What made you interested in the arts?
I was always interested in the arts, but I was always interested in the sciences.
I started taking dance when I was very little, and I picked it back up in high school. My mom made me take piano lessons starting when I was 8.
What really made me interested in the arts and culture was living in places where there were language barriers. My dad worked in the auto industry and we lived in Australia, Venezuela, Germany and Detroit. Because there was so much diversity in my schools, we often looked at the arts, culture, and local folklore to understand more about the communities where we were living.
In Venezuela, there were some Americans there, but there were also probably 30 other nationalities in my class. There was so much diversity that we all bonded in a lot of ways, and exposed each other to our respective cultures. Both food and art were essential "universal languages" that I loved to explore, in particular. 
I always loved to learn about where I was living. I think that's what fed my utopian view of the role of the arts as a tool for diplomacy and how we can create peace and change through these exchanges.
Did you ever consider being an artist?
I didn't want to be a practicing artist for my career. I love to still play bass guitar in bands and take dance classes, but I need to have that left brain/right brain balance and also love analyzing budgets and dissecting data. 
When I found the field of arts management, I thought, "Perfect, I can have both."
How has MAM changed since you were a student in the program?
Ten years ago, it was fairly different. Back then there wasn't quite the diversity of the student body. Thirty-five percent of our students are now international, and we're seeing a lot more diversity of disciplines with students' backgrounds balanced between the performing and visual arts.
The curriculum has grown, with more electives and classes being introduced. Recently we added a new faculty member to the program, and there are lots of great synergies across the university.
The partnership between the College of Fine Arts (CFA) and the Heinz College has certainly strengthened. Dan Martin, the dean of CFA, was the MAM program director for 15 years and still serves as the faculty chair.
Now we also have some great international exchange programs and a double degree program with the University of Bologna in Italy.
Where do you see the program going in the next 25 years?
The world has changed, and social media has changed. The field of arts management has responded as a result, and our program is at the forefront of developing the "new" best practice in the field. A patron now has multiple portals of entry to experience art now, and be engaged 24/7. It's not merely about just going to a performance or through a museum anymore. It's my goal that we are always relevant and that we are ahead of the trends happening in the field. Through the faculty and the alumni, we are very keyed into what is happening.
MAM alumni serve as our "army" and our eyes and ears in the field. We do regular curriculum reviews with our advisory board. So I ask myself where I see the field going. I want to see us going there first because we're training the next generation of arts managers who need to be prepared for the field's evolution - or even better, be the ones inventing it.
How is arts management changing?
The field is continuing to blur the line of how people experience the arts.
We're seeing more people experiencing the arts without leaving their homes through mobile apps. They're attending screenings from remote locations, and they're engaging before, during and after an experience.
With Carnegie Mellon being at the center of innovation and technology we want to make sure we understand how that market works and help the arts organizations understand those synergies. My goal is to help students and alumni to think outside the box and bring the arts management field to a more sustainable place.
What brought you to Pittsburgh?
Grad school. I studied arts management and dance as an undergrad. I had never been here before, and I came for admitted students weekend and I fell in love with CMU and Pittsburgh. I really got a sense of a thriving cultural scene here, and it seemed like the perfect laboratory for school - it was small enough that it was accessible and large enough that there were plenty of opportunities.
I ended up staying and working for the Cultural Trust for eight years before working at Carnegie Mellon in the School of Music and then the MAM Program.
What makes Pittsburgh a cultural destination?
It has anything you could want. It has the big multimillion-dollar organizations such as the Cultural Trust, the opera, the symphony but also plenty of wonderful midsize arts organizations.
What I really love are the small owner-operated entrepreneurial arts organizations that have popped up. From quirky spaces in Braddock to the Penn Avenue Arts District and all of the arts organizations in Lawrenceville - they create a really diverse cultural landscape. Pittsburgh's affordability has really helped foster those cultural entrepreneurs. There's a lot of collaboration happening here.
40 Under 40
Each year 40 people under the age of 40 are recognized as being committed to shaping the Pittsburgh region and making it a better place. This year there are seven people with CMU connections on the list:
Nina Barbuto (A'06)
Sonika Bhatnagar, (S'95)
Julie Butcher Pezzino, (HNZ'09)
Cory Cope, (A'03)
Kathryn Heidemann, (HNZ'04) Staff
James Isler, (TPR'06)
Allison Sanders, (HNZ'04)
40under40pittsburgh.org