October 25, 2012
CMU Participates in One Young World

Pittsburgh served as a stage for the world's youth this past weekend as more than 1,300 young adults from 182 countries met to discuss global issues including business, global health, education, sustainable development, leadership and governance, human rights and social business.

"Carnegie Mellon University is pleased to have had the opportunity to partner with the Pittsburgh community to bring One Young World to our city," said Amy Burkert, vice provost for education. "It was gratifying to develop breakout sessions with campus partners and groups throughout the region to frame experiences to engage these young leaders from all over the world in dialogue about some of the most pressing issues of our time."
The event included high-profile speakers such as President Bill Clinton, former Secretary General of the United Nations Kofi Annan, celebrity chef Jamie Oliver, 2006 Nobel Peace Prize winner Muhammad Yunus and Twitter founder Jack Dorsey.

Carnegie Mellon assisted with four sessions that included:
Technology with a Global Heart
The TechBridgeWorld research group works closely with partners in underserved communities to create computing technologies designed to help them tackle challenges they face. TechBridgeWorld hosted a breakout session related to the One Young World Summit's plenary session on health issues related to people with disabilities.  
The One Young World delegates saw some of the state-of-the art technology in the Field Robotics Center, learned about the role of information and communication technology in international development and worked in teams to design and present project concepts for addressing the needs of people with disabilities.  
TechBridgeWorld staff members Ermine Teves and Sarah Belousov along with graduate students Hatem Alismail and Ronnell Perry ran the session.
Creative Leadership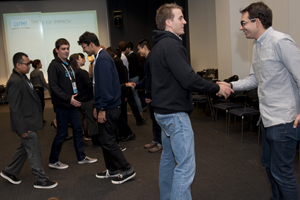 Brenda Harger, an associate teaching professor, and Chris Klug, an assistant teaching professor, led a session at the Entertainment Technology Center.
Session participants were given a hands-on look into design and development and how to manage creativity and foster innovation on interdisciplinary group projects. That was followed by a workshop on iterative design and rapid prototyping, and the group playtested projects by current graduate students.
Sustainable Cultivation: Growing Greener Communities Across the Globe
Stephen Lee, head of the School of Architecture, participated in a session at the Phipps Conservatory along with Melissa Bilec, an assistant professor at the University of Pittsburgh; Molly Steinwald, director of science education at the Phipps; Adam Haas, interpretive specialist at the Phipps; Melissa Hardin, science education specialist at the Phipps; and Joel Perkovich, sustainable designs and programs manager at the Phipps. 
Richard V. Piacentini, executive director of Phipps Conservatory and Botanical Gardens, provided welcome remarks and the participants divided into smaller groups where they took guided tours of the Center for Sustainable Landscapes focusing on one of three themes: Energy, Water and Healthy Living.
Each group also participated in group discussions on energy, water or healthy living.  
Breaking the Mold: Innovative Schools
Carnegie Mellon developed a session to highlight innovative programs developed by Pittsburgh public and charter schools that use research data to improve education. Ellen Romagni from the Gelfand Center was a session coordinator, and Angel Gonzalez and Lisa Premo provided logistical support.
 
The session introduced new models and innovative approaches, many developed together with Carnegie Mellon faculty, staff and graduate students, to educating children and the process that was used to design these successful new programs. School administrators shared information about the innovative features implemented in their programs and the research that is being conducted to document the impact of these features.

###
Participants at an ETC session learned how improv exercises can lead to new leadership styles.