October 18, 2012
And the Andy Winners are ...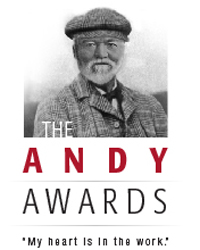 President Jared L. Cohon and Provost and Executive Vice President Mark S. Kamlet announced the 2012 Andy Award winners this past Tuesday during a noon ceremony before a standing-room-only crowd in McConomy Auditorium.
The winners are:
Dedication: Judy Abrams, Cyert Center for Early Education
Commitment to Students: Maxine Leffard, Civil & Environmental Engineering
Innovation: The iTunes U Course Team, including Amanda Berneburg, Stephen Chabassol, Carrie Chisholm, Dan Jenkins, Brian Parker and John Przyborski
Culture: Christina Cowan, Institute for Complex Engineered Systems
Citizenship: Sonya Bell, University Police
Community Contributions: Warren "Chuck" Whittaker, Robotics Institute
In addition to the above winners, Rich Lyons, a longtime copy center technician who died earlier this year, received a posthumous Andy Award for Dedication. The award was presented to his sister, Maureen Twigg.
Also, Staff Council President Jeffrey Harris on behalf of the Andy Award Judges Committee presented President Cohon and Provost Kamlet with honorary Andy Awards "for their selfless dedication to the Carnegie Mellon community."
Prior to the presentation of the Andy Awards, framed certificates were presented to staff for 30 and 35 years of service.
The Andy Awards, named for Andrew Carnegie and Andrew Mellon, are a tribute to the spirit of teamwork and dedication embodied by the staff at Carnegie Mellon. Individual staff members and teams of colleagues whose work has had a significant impact on the university are recognized for their outstanding performance and commitment to excellence through the Andy Awards program.
Read more about the Andy Award winners in the November Piper.