November 13, 2012
Q&A: New Vice Provost Looks To Connect the Dots
By Pam Wigley pwigley(through)andrew.cmu.edu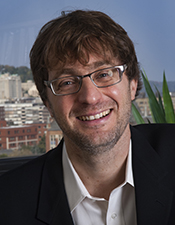 Thanassis Rikakis has a penchant for building interdisciplinary teams encompassing the disciplines of art and technology to create innovations with impact. This past summer, he brought his skills to Carnegie Mellon, the place where no one does it better.

In August, Rikakis joined Carnegie Mellon as its new vice provost for design, arts and technology. He is a full professor in the College of Fine Arts' School of Design and holds courtesy appointments in the School of Music and the College of Engineering's Biomedical Engineering Department. He also oversees the university's Entertainment Technology Center (ETC).

Since his arrival from Arizona State University, Rikakis has been meeting with people inside and outside of the university, gathering information that will help him to gain a better understanding of the synergies that have established Carnegie Mellon as the world-leading university in arts and technology.

He says he is looking forward to working with the many individuals who have helped to build that reputation.

The Piper recently caught up with Rikakis to talk about his new role, the university and the path that led him to Pittsburgh.
You arrived in Pittsburgh about three months ago. What have you been doing?
I've been in data collection mode, and after 11 years [at Arizona State University], it's an interesting change ... a good change of pace.
What observations do you have thus far?
There are complex societal issues specific to the 21st century that need to be addressed. People look to Carnegie Mellon to provide answers to those issues. The people I've talked to confirm that we must make sure as an organization that we recognize that some key issues facing us today are, essentially, cultural problems that need to be resolved. Resolution comes through an integrative approach - a team-based discussion.
Do you think students are inclined to share that opinion?
Many students today expect to create their own jobs for the future, and a broad college preparation is critical for the 21st century entrepreneur. The 18-year-old needs to be at home at CMU, and I think today's student finds a world of options here. Some students that I have already met are what I call "dot connectors," like [Mark] Zuckerberg [chairman and chief executive officer of Facebook]. 
What's a "dot connector?"
They are students who don't fall into a linear experience. They see how to connect knowledge across domains in unexpected ways. Although the linear progression of how they connect might look disjointed, the aggregate of their point collection helps us look at the big picture, so to speak.
Do you think that vision among students is specific to CMU?
I think the great thing about CMU is that its culture promotes not only these dot connectors, but also people who excel in traditional disciplines. Students seem to understand that you need a cross-section of people to be successful in any venture, like collaborations between interdisciplinary students and disciplinary experts.
What influenced your own course of study in music composition and computer music?
In the late '80s, while I was at Columbia, computing became integrated with music and was embraced by a diverse group of people - the early computer music scene had classical musicians but also Wall Street professionals, rock musicians and medical professionals. I saw that music knowledge and creativity could be shared outside the concert hall through countless conduits including the rehabilitation clinic. [Rikakis later led an interdisciplinary team spanning rehabilitation medicine, neuroscience, engineering, design and the arts that developed rehabilitation systems for stroke survivors. Music was a large part of patients' rehabilitation.]
How would you describe your personal philosophy?
I grew up in Greece at a time when the country was in turmoil, so the expectation for a "normal" tomorrow was not always there. So my philosophy is that we have to engage and appreciate life today while also working for a better tomorrow.
So what is that better tomorrow?
A tomorrow that balances efficiency with contemplation. I believe some of the richest conversations in the next 10 years will be about what "quality of experience" truly means. And there is no better place than CMU, a place with expertise in experience creation, technology and social analysis for this conversation to mature.