November 13, 2012
Pedal and Park
Cyclists Have Added Options on Campus Thanks to Graduate Student Assembly
By Bruce Gerson bg02(through)andrew.cmu.edu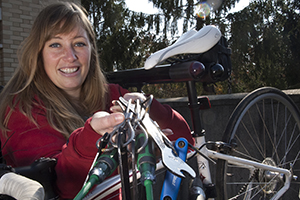 There's a lot more parking on campus these days. And it's free, if you're riding a bicycle.
The new, free parking for bicyclists comes courtesy of the Graduate Student Assembly (GSA), which recently purchased and installed 11 bicycle racks and four maintenance stations around campus. Eight of the 11 are stainless steel racks for outdoor use. Three have been placed indoors, two in the Gates Garage and one in Mellon Institute, down the hallway to the right off the Bellefield Street entrance.
The maintenance stations include a hanger to elevate and hold the bicycle steady while making repairs, an air pump and basic tools needed to make minor adjustments - from repairing a flat tire to adjusting brakes.
A committee of GSA officers and Carnegie Mellon staff members selected the locations (see below) for the racks and repair stations. Staff members included Director of Parking and Transportation Services Michelle Porter, Fitness Operations Manager Pattye Stragar, Environmental Coordinator Barb Kviz and Facilities Management Services Associate Director for Client Services Kyle Tomer.
Carolyn Norwood, a Ph.D. candidate in the Materials Science and Engineering Department and vice president of communications for the GSA, said the nearly $30,000 in equipment was funded by the GSA's capital reserves, which had built up over the past few years. She said the capital reserve must be used for projects that benefit graduate students over the long term.
"After soliciting input from the graduate student body about potential capital investments, GSA received overwhelming feedback about the bike rack situation on campus," Norwood said. "We looked into this potential need and found that, indeed, many of the current bike racks were consistently overcrowded.
"In addition, in the process of scouting out locations for new racks, we saw a lot of them were in a state of disrepair, some corroded and rusted to the point of falling over. Due to the popularity of biking to campus as well as our large capital reserves, GSA decided to invest in high-quality stainless steel bike racks and maintenance stands. We expect that this investment will serve the greater campus community for many years to come," Norwood said.
Norwood and Porter hope the bicycle-friendly enhancements continue to promote biking as a healthy, environmentally friendly alternative mode of transportation to and from campus.
Last month Parking and Transportation hosted a Bike Community Forum in which representatives from Bike Pgh spoke about bike safety and the many bike trails in the area.
"We also spoke about building a communication network for CMU bicyclists, like a d-list or list-serv, safety issues, particularly at the intersection of Forbes and Morewood, and holding events such as 'Car-Free Fridays' and a transportation fair with a focus on bicycles," Porter said.
She said Parking and Transportation and FMS are looking to identify additional locales for racks and repair stations.
Last April, CMU's Mechanical Engineering Department was honored as a bicycle-friendly workplace by the League of American Bicyclists for its repair stop and racks near Scaife Hall and, for helping to launch "Heels on Wheels," a program aimed at encouraging students, faculty and staff to bike to work.
To celebrate National Bike to Work Day, CMU has partnered with Bike Pgh to host a Bike to Work Breakfast. The next National Bike to Work Day is May 17, 2013.
New Bicycle Racks:
Hamburg Hall (right of the high bay door)
Doherty Hall (back entrance)
Hammerschlag Hall (side entrance) - 2 racks
Porter Hall (Frew Street side entrance)
Tepper School (near Frew Street overhang)
Purnell Center (porch area, Warner Hall Side) - 2 racks
Gates Garage (first floor) - 2 racks
Mellon Institute (down the hallway to the right off the Bellefield Street entrance)
New Maintenance Stations:
East Campus Garage - 2 stations
Gates Garage (first floor)
Mellon Institute
Google Bikes
Google is gearing up for a new personal transportation option for its employees and associates between its offices at Bakery Square and Carnegie Mellon.
While a shuttle already exists, this new ride-sharing program would feature the bright orange bicycles docked behind Hamburg Hall.
When up and running, Google affiliates will be able to sign up for a key to access the bikes from docks at CMU and Bakery Square between 6 a.m. and midnight.
For additional information or questions, contact the Parking & Transportation Services at 412-268-6278.
Grace Heckmann, president of the Graduate Student Assembly, shows some of the maintenance station's tools.