November 13, 2012
Nearing Completion
Restoration Wraps Up on Historic Margaret Morrison
By Bruce Gerson bg02(through)andrew.cmu.edu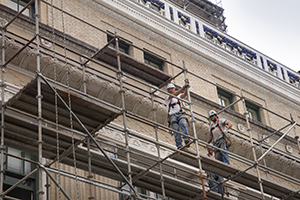 The disassembly of the scaffolding along the west side of the 1914 addition to Margaret Morrison Carnegie Hall signaled the massive restoration project is nearing completion.
The 15-month, $3.7 million effort traversed the entire west façade, from the base of the Intelligent Workplace (IW) to the concrete running along the top of the arched basement windows. Work included replacing the terra cotta near the IW with a new multi-colored decorative balustrade made of glass fiber reinforced concrete; raising and installing new third-floor windows; replacing the decayed structural steel behind the brick exterior with new galvanized, stainless steel columns and beams; adding new rainwater drainage and hot water heating systems; and making extensive reinforced concrete repairs above the vaulted Children's School windows.
Ed Hydzik, project manager for Campus Design and Facility Development, said the work was done with an environmental focus and with an aim to preserve its historic look. For example, 90 percent of the original bricks were used, the new energy-efficient windows were custom-made using the existing wooden frames; and the new mortar was modeled after the original 1914 lime-based mortar.
The lead architect for the project was Sheldon Goettel of Perfido Weiskopf Wagstaff + Goettel. The structural engineer was John Snyder of Atlantic Engineering, and the construction manager was Jendoco Construction Corporation.
A restoration project has been nearly completed on the west façade of Margaret Morrison Carnegie Hall. Workers take down the scaffolding along the entire west facade of MMCH.