November 13, 2012
Disaster Management
Silicon Valley Demonstrates Community Approach to Communications
By Jessie Hao jessie.hao(through)sv.cmu.edu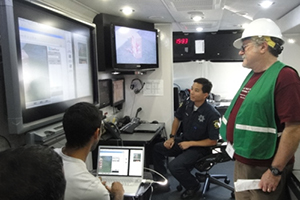 As devastating disasters like Hurricane Sandy have shown, traditional telecommunications infrastructure is highly vulnerable.
But a new project out of Carnegie Mellon Silicon Valley may have a solution that uses smartphones.
At the university's annual Disaster Management Initiative Workshop, "Making Smart Communities Resilient," Bob Iannucci and students demonstrated the new Survivable Social Networks (SSN) project.
The goal is to create a standalone Wi-Fi "bubble" to allow members of a community and emergency personnel to communicate within a local network. For wider communication, such as between two towns, individual "bubbles" could be networked through a satellite connection.
The system would have several layers. Through a mini social network, residents could report incidents and municipal officials or emergency personnel could send out alerts and announcements, such as evacuation instructions.
"There is great power in this social networking concept when it is combined with inexpensive, scalable and resilient infrastructure. We've created SSN such that it requires no installation and no training," Iannucci said. "Our hope is that this will become a tool that can be self-deployed at the neighborhood level, affording community members critical resources during a disaster and the ability to be resources to each other."
SSN is a part of the Silicon Valley Resilient Network (SVRN), a collaboration between CMUSV and the City of Palo Alto. Kenneth Dueker, director of Emergency Services for Palo Alto, said the city's partnership with the university is an asset to the Bay Area community.
"Because of [Martin] Griss and his leadership, CMUSV is different from the typical academic environment where concepts are often purely theoretical," he said. "There's certainly value to the academic side of things but we're trying to find points of tangency where the needs of our practitioner world meets academia."
But interest in the project expands even further. Mountain View Mayor Mike Kasperzak acknowledged the significance of the project and played a role in the demonstration. Lynn Brown, manager of Mountain View's Office of Emergency Services, said that SSN was something local community emergency response teams should consider.
A Good Neighbor
Carnegie Mellon continues to collaborate with industry and community members to create practical solutions to real-world problems.
Bruce Mueller, director of Next Generation Broadband Wireless Research for Motorola Solutions, emphasized the importance of community interaction during emergencies.
"The response from neighbors before, during and after Hurricane Sandy is a sign of hope," he said. "It shows that people haven't given up on community but that it plays a critical role in communication during disasters."
One of the students participating in the demonstration had a personal experience to bring to the day's presentations.
Stu Kennedy, a student in CMU's Information Networking Institute, was stuck in New York after Hurricane Sandy and experienced first-hand the difficulties first responders had communicating with each other during and after the disaster.
"It makes the work we're doing on SSN both practical and meaningful," Kennedy said.
DMI Workshop
The third annual DMI workshop at the Silicon Valley campus at NASA Ames Research Center took place in early November.

"The key idea of our workshop this year was to focus on interoperability actions and low cost, open source technologies to simplify communications among citizens, first responders and emergency vehicles," said Martin Griss, DMI director.

The program included presentations from FEMA, American Red Cross, Motorola Solutions and other industry leaders.

CMUSV Distinguished Research Fellow Steven Ray also led an Emergency Vehicle Plugfest to collect data on measures of interoperability among mobile command and communication vehicles from Palo Alto, Mountain View, Sunnyvale and Monterey County.

Check out www.cmu.edu/silicon-valley/dmi/workshop2012/program.html for images and details from this year's workshop.
Jessie Hao is a marketing coordinator at Carnegie Mellon Silicon Valley.

Martin Griss (right) and students collaborate with the Palo Alto Mobile Emergency Operations Center in the Survivable Social Networks project.