November 13, 2012
Andy Awards
Winners Exemplify Community, Dedication and Passion
By Heidi Opdyke opdyke(through)andrew.cmu.edu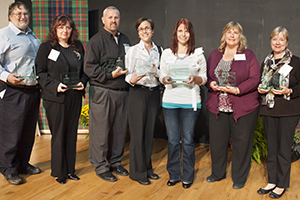 One nominator summed up the sentiment of this year's Andy Award winners best with a quote from university founder Andrew Carnegie: "Do not look for approval except for the consciousness of doing your best."
President Jared L. Cohon, who praised the passion of all of the nominees, and Provost and Executive Vice President Mark S. Kamlet announced the 2012 Andy Award winners before a standing-room-only crowd in McConomy Auditorium.
Outstanding Dedication: Judy Abrams, Cyert Center for Early Education
More than 1,000 CMU employees and students with children have worked with Judy Abrams during the past 38 years.
Abrams is program director for the Cyert Center for Early Education. Previously she was an early childhood educator and educational coordinator.
"The reputation of The Cyert Center for Early Education as a place of high quality is largely due to the dedication of Judy Abrams and her ability to look at obstacles as challenges to overcome on the path to excellence," said Sandy Johns, an educational coordinator who nominated Abrams for the award.
Johns said that Abrams has been dedicated to the staff, parents and children at the Cyert Center, and has made contributions to the field of early childhood education at local and national levels.
Gina Casalegno, dean of Student Affairs, was one of many parents who lauded Abrams.
"I know that as a new parent ... I found my days at Cyert during the welcoming period as some of the most special and tender times we spent as a family as we built community with all members of the Cyert family," Casalegno wrote. "That kind of community doesn't just happen.... That has everything to do with Judy Abrams."
Outstanding Commitment to Students: Maxine Leffard, Civil & Environmental Engineering
As the graduate program administrator for Civil and Environmental Engineering (CEE), Maxine Leffard works with students from the application process through graduation.
She has worked to create a monthly graduate program coordinator's meeting to discuss best practices, policy changes and student issues, and is available to students 24/7.
"She sincerely cares for the students and their well-being," said David A. Dzombak, the Walter J. Blenko, Sr. University Professor, who nominated Leffard. "Maxine provides an outstanding example of professional behavior and commitment for our students. She is an outstanding role model in addition to being an outstanding Graduate Program Administrator."
Saurabh Taneja, a graduate research assistant, said Leffard takes the time to know each student and plans many social activities, organizes talks and provides administrative and academic assistance.
"I sincerely feel that Maxine loves her job and her students and is fully committed toward making sure that graduate students have a comfortable stay at CMU and in Pittsburgh during their pursuit of advanced degrees," Taneja wrote.
Leffard has been honored with a College of Engineering Staff Award and was an Andy Award nominee in 2008.
Outstanding Innovation: The iTunes U Course Team, including Amanda Berneburg, Stephen Chabassol, Carrie Chisholm, Dan Jenkins, Brian Parker and John Przyborski
Thanks to the work of the iTunes U Course Team, a new iPad Programming class not only allowed CMU students to learn about creating apps, but also opened the Human-Computer Interaction Institute's expertise to a global audience.
The course, co-taught by CMU Assistant Professor Niki Kittur and top industry developers, has more than 107,000 subscribers, and there have been more than 234,000 views of the lecture videos. Apple promoted the course on the front page of the main iTunes U site.
Members of the Marketing and Media Relation's digital productions and Web groups worked with Media Technologies to capture high-quality video recording of lectures with a live-mix of the camera feed and on-screen presentation material.
"The integrated iTunes U Course Team developed an efficient workflow expertise that allowed each of the 28 lecture videos to be edited, closed captioned, compressed and posted to CMU's iTunes U site within a week of being captured, all while maintaining Apple's quality specifications for the course," wrote nominator Bonnie Cersosimo, associate vice president for Marketing and Media Relations.
Kittur said "without the team's dedication, the course would have never been able to have the impact and dissemination that it did."
Outstanding Culture: Christina Cowan, Institute for Complex Engineered Systems
Christina Cowan, special projects coordinator and executive assistant in the Institute for Complex Engineered Systems (ICES), is recognized for fostering a balanced and inclusive workplace.
"Christina has been faithful to the ICES mission, being responsible for literally connecting people with their physical environment," wrote Alicia Angemeer, external relations and outreach coordinator. "This is an accomplishment that she executes every work day with her usual positive and humorous approach to practicality."
Cowan has initiated a number of streamlined processes including creating databases, registration systems and event websites.
"Having the best possible working environment is one of Christina's primary goals. She accomplishes this with her enthusiasm," wrote Rhonda Moyer, administrative and financial managers for ICES. "She is constantly evaluating how things could be done and strives to make the institute as successful, visual and exciting as possible."
Cowan has taken steps to create a more welcoming work environment through understanding, encouragement and education. She has been involved in many CMU committees, is a member of Staff Council, chair of the CIT Staff Awards and spearheaded a CIT cookbook to benefit the National Pancreas Foundation.
Outstanding University Citizenship: Sonya Bell, University Police
Sonya Bell, a member of University Police, displays a clear passion for serving and caring for the students at Carnegie Mellon.
Her dedication has resonated so much that 44 students wrote letters in support of her Andy Award nomination.
Patrick Hogan, a student and resident assistant, called her an energetic member of the university community.
"She has made all of my friends feel very safe and protected and watched out for, on a personal level. ... That contribution has not gone unnoticed amongst my friends."
Resident Assistant Colin Chadderton noted that not only is she an excellent officer but she has developed a connection between CMU Police and Scobell House.
"For the residents in this dorm, CMUPD is not some anonymous group of officers in police cars that show up only to crack down on nonsense or escort someone to the ER, they are people like Sonya Bell who put their heart into their work and leave positive impacts even beyond their call of duty," he wrote.
Outstanding Community Contributions: Warren "Chuck" Whittaker, Robotics Institute
Warren C. Whittaker's nominators call the field robotics specialist an exceptional systems engineer who loves what he does and inspires others with his work.
"Chuck is greatly appreciated by the faculty because of his always find-a-way, never-say-impossible attitude. Time and effort are never factors, and we have yet to see a barrier to his delivering on research objectives," wrote David Wettergreen, a research professor in robotics. "In many ways, Chuck Whittaker is the oil that keeps the Field Robotics Center running smoothly. He clearly loves what he does and inspires others with his work."
Whittaker is recognized for crucial but often unsung contributions to major robotics projects, including the Three-Mile Island decontamination robots and the Pioneer robot built for Chernobyl. He helped found RedZone Robotics and Workhorse Robotics. He is the driving force behind decades of mining robots that include automated machines, mine mapping and rescue vehicles.
David Kohanbash, senior research programmer at the Robotics Institute, wrote that "Chuck volunteers whenever something needs to be done."
Whittaker also mentors staff and students, and the CMU "Girls of Steel" FIRST (For Inspiration in Science and Technology) Robotics Team.
Honorary Awards for Exemplary Service: President Jared Cohon and Provost and Executive Vice President Mark Kamlet
The Andy Awards selection committee extended honorary Andy Awards for Exemplary Service to Jared Cohon and Mark Kamlet.
"For the past 15 years, Drs. Cohon and Kamlet have been tireless supporters for the entire staff community of Carnegie Mellon," said Staff Council President Jeffrey Harris during the awards ceremony. "Their vision and leadership have enabled our staff to achieve more, to have greater impact on our research, students, programming, our educational mission and to move the entire institution into the 21st century. They have also been incredible supporters of the Andy Awards, and have demonstrated many of the same qualities that the committee looks for in Andy Award recipients."
The Andy Awards named for Andrew Carnegie and Andrew Mellon, are a tribute to the spirit of teamwork and dedication embodied by the staff at Carnegie Mellon.
Posthumous Award for Outstanding Dedication: Rich Lyons, copy center technician
Rich Lyons, a longtime and well-known copy center technician who died earlier this year, received a posthumous Andy Award for Dedication. The award was presented to his sister, Maureen Twigg.
President Cohon noted his compassion for others. He said Lyons once took a PTO day to take a fellow worker to a doctor's appointment and literally gave a University of Pittsburgh shirt off his back to a colleague who was a Pitt fan.
This year's Andy Award winners (from left) included Warren "Chuck" Whittaker, Christina Cowan, Brian Parker, Carrie Chisholm, Sonya Bell, Maxine Leffard and Judy Abrams. Not pictured: Dan Jenkins, Stephen Chabassol, Amanda Berneburg and John Przyborski.