November 13, 2012
A Merry Meal
Madrigal Dinner Promises Evening of Mirth, Music and Magic
By Heidi Opdyke opdyke(through)andrew.cmu.edu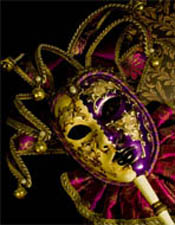 You don't have to be a king to be entertained like one.
In a tradition that stretches nearly 30 years, Carnegie Mellon is celebrating the end of the semester and the start of the holiday with a madrigal dinner.
The event is sponsored by the Office of Orientation, Student Affairs, Alumni Relations, Student Senate, Carnegie Mellon School of Music, Student Dormitory Council and CulinArt.
"I like the event because it is different and showcases the talents and curiosity of our students," said Anne Witchner, assistant dean of Student Affairs. "It also highlights for me what a unique place Carnegie Mellon is. I think it is wonderful to have events that faculty and staff can bring their families to."
Veronica Kawaka (DC'11 '12) is assisting Witchner with the festivities and transporting guests back in time.
"We wanted to keep it in tune with the Scottish cultural surroundings at CMU," she said. "We're going to incorporate some Highland game elements and a Scottish court."
Royal twins and a case of mistaken identities will be the center of the merriment.
Performers at the event will be in costume, and Witchner said guests may dress up as well. The event has been held off and on since 1984, with the last one in 2008.
"Our campus lends itself to this event because of the diversity of talents via our academic programs," Witchner said. "The natural tie to the School of Music is huge and the talents of students from all over campus who have performed, acted in it, written the script and more makes it special."
The evening, which is open to the public, will include strolling entertainers including jugglers, stilt-walkers and "Acts of Alchemy" from Karen Stump, director of undergraduate studies and laboratories for the Department of Chemistry.
The School of Music's Chamber Singers, directed by Michael Van Camp, are a featured part of the evening.
Will Weiner, chair of the Undergraduate Student Senate, will serve as master of ceremonies.
Tickets are on sale and available at the University Center Information Desk. For more information, call 412-268-4886.
Madrigal Dinner
Music, Magic, Mime, Mirth and More! Carnegie Mellon Madrigal Dinner 2012
Saturday, Dec. 1
6:30 p.m. reception, University Center
first and second floors
7:30 p.m. dinner, Rangos Ballroom
$10 Carnegie Mellon Students and
children under 12; $20 All Other Guests
Madrigal Dinner Bill of Fare
Wassail
Roast Water Chestnut Salad
Hearty Breads
Chicken Strudel
 (or vegetarian option)
Rustic Roasted Vegetables