May 11, 2012
Professors Named to Top Spots at UCSD and Clarkson
By Bruce Gerson bg02(through)andrew.cmu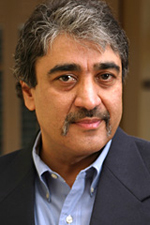 Carnegie Mellon produces leaders. Its students are highly sought after and so are its faculty members.
Pradeep Khosla, the Philip and Marsha Dowd University Professor and dean of the College of Engineering, has been recommended to become chancellor at the University of California, San Diego. The University of California Board of Regents will vote on his recommendation May 16.
Robotics Professor Chuck Thorpe, founding dean of Carnegie Mellon's Qatar campus, has been named senior vice president and provost at Clarkson University in Potsdam, N.Y.
Both earned graduate degrees at Carnegie Mellon, they joined the faculty here, their careers blossomed and they contributed greatly.
"Pradeep has been one of the most important contributors to Carnegie Mellon of any faculty member I can think of during my 35 years at the university," said Provost and Executive Vice President Mark Kamlet. "He has been an excellent educator and scholar as indicated by the fact that he was elected to the National Academy of Engineering and was a University Professor.
"But, it is as a department head and dean that his accomplishments stand out as truly extraordinary. He has been tireless, not only in his role as dean of CIT, but in his leadership in establishing international campuses of Carnegie Mellon (in Greece, Portugal, Rwanda and China), fundraising, and important construction and building projects. He was also a great friend. He will be most sorely missed here at CMU."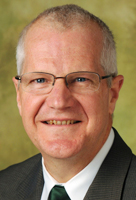 Kamlet emphasized Thorpe's contributions as a pioneering dean of the Qatar campus.
"Chuck Thorpe was the right person at the right time in his several key roles at Carnegie Mellon," Kamlet said. "For me, this was best represented by his willingness to move from being the head of our Robotics Institute to become the founding dean of Carnegie Mellon's undergraduate campus in Qatar. The importance of that role, as the pioneer who forged our new campus, is hard to overstate. He signed up for three years and we somehow convinced him and Leslie, his wife, to stay for six. The university will forever be grateful for his leadership and efforts."
During nearly eight years as dean, Khosla, who earned his master's and Ph.D. degrees at CMU, initiated reforms to the undergraduate curriculum, which helped the College of Engineering continue to be recognized among the world's leading engineering programs. The college was ranked 12th by the 2011-12 Times Higher Education World University Rankings.
"I believe that I leave CIT and all of its initiatives in good hands," Khosla wrote in an email to faculty and staff in the College of Engineering. "Our rankings are superlative, our students are the best, our sponsored research has doubled, our alumni are engaged and very supportive, and we have launched initiatives in Pittsburgh, the Silicon Valley and internationally. While I may not be here physically to partake in the future successes of CIT and Carnegie Mellon, I will be watching closely and take pride in the fact that I have been a part of this great institution and that as an alum I will always be a part."
Thorpe, who earned his Ph.D. in computer science at CMU, was director of the Robotics Institute for four years before becoming dean of Carnegie Mellon's Qatar campus from 2004 to 2010. He was inducted into the Robot Hall of Fame for his efforts to create autonomous vehicles.
"I got my job at Clarkson because of all of you [at CMU]," Thorpe said. "They looked at the success of the Robotics Institute and the Qatar campus and decided they'd like to have some of the same things happen. Of course, the institute has grown even more after I left, with Matt Mason running it. The Qatar campus keeps adding students and majors, under Dick Tucker and now Ilker Baybars.
"So it's pretty clear to me that the successes of those places has more to do with the quality of the faculty, staff and students than with my leadership. Thanks to all of you for making me look good," he said.
Pictured above are Pradeep Khosla (top) and Chuck Thorpe.