May 11, 2012
Defying Expectations
English Student, Classmates Write Their Own Paths Through College
By Shilo Rea shilo(through)andrew.cmu.edu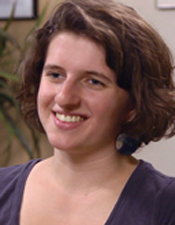 Caroline Kessler has always wanted more than the traditional college experience. And she got it ... in just three and a half years.
Kessler, a native of Woodstock, Md., will talk about how she and her classmates are constantly redefining "typical" and "normal" when she delivers the student address at this year's commencement.
"I was really shocked and surprised to be chosen [as the student speaker] - and very, very excited," said Kessler, who graduated in December with a creative writing major and a religious studies minor. "I want to share the amazing experience I had at Carnegie Mellon with the people who made it so amazing - my classmates, the faculty, staff and families."
The Dietrich College Dean's List student has won awards for her poetry and fiction and scholarships from the Andrew Carnegie Society and English Department. She was heavily involved in extracurricular activities, founding "Ampersand," an informal creative writing workshop open to all CMU students, writing for the Tartan, traveling to the Doha campus as part of the IMPAQT (Initiating Meaningful Pittsburgh and Qatar Ties) program and serving as a Highland Ambassador.
Kessler did all of this - and much more - despite spending a semester abroad in India and a summer in Poland working for the Forum for Dialogue Among Nations, a nonprofit organization that promotes religious tolerance through education. She spent this spring as a communications intern in San Francisco at Net Impact, a nonprofit that works to make business more sustainable.
She said she does not consider herself to be a typical CMU student, but is there such a thing?
"We defy these explanations because this is a place for innovation, creativity, passion, resourcefulness and hard work," she wrote. "We might come in with some of these things, but the university community - the faculty, the staff and our peers, shape our experience. This place may seem impossibly weird sometimes, full of quirky traditions like painting the Fence and bagpiping on special (and not so special) occasions. But that is of course what is so special about this place that many of us will call home now."
One thing that surprised Kessler about her time at CMU was how close relationships can form so quickly.
"I'm going to miss the people and sense of community," she said. "Even when people are stressed with finals, there's a feeling that we're all in it together."
Yona Harvey, director of the Department of English's Creative Writing Program, advised Kessler on her honors thesis, a collection called "An Aquarium Made From Fish Soup: Poems." She said the works reflect how Kessler is a talented writer, academic achiever and great at drawing people in.
"CMU is a demanding environment, and it's easy to get lost if you're not proactive," Harvey said. "But Caroline entered the program and created a place immediately. More importantly, she made other students feel welcome. And that's a very humbling thing to do. She's a leader, but selflessly attuned to the sensitivities and talents of others."
Harvey also pointed out how unusual it was to have Kessler come in as a freshman and create a writing workshop instead of waiting to take the formal course offering.
"That's a perfect example of Caroline's leadership - thinking not only of herself, but of an entire group," Harvey said. "She was accepted to the nationally competitive Bucknell University Seminar for Younger Poets, which will take place in June, and the Creative Writing Program will be cheering her on."