March 02, 2012
TechSpark Attracts, Connects Innovators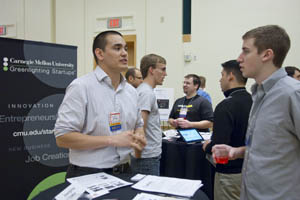 We've all experienced the college career fair.
A gym floor cordoned off into pipe-and-draped booths stuffed with employers. Hordes of students dressed up in their finest, gripping their resume-filled binders, their eyes darting around the room in search of employers that might be hiring a person with their skills, and with their 30-second self-promotional elevator pitch rehearsed and at the ready.
For many traditional types of employers, this oft-repeated dance of introductions between employers and students works quite well.
But for those entrepreneurial types who aren't looking for the traditional job experience and who may be well on their way to building their own startup - enter TechSpark.
Last month the Career and Professional Development Center (CPDC) launched a new type of career networking event - one better suited to the types of students and companies who want to share in meaningful conversation about the excitement of the entrepreneurial spirit.
More than 100 students and 25 companies - including Braintree Capital and Nest Labs - attended TechSpark in Rangos Ballroom. Alumnus Tony Berkman (S '88, TPR '98) gave the keynote address, followed by short presentations from select companies and an open networking session designed to engage students, alumni and recruiters.
To help further these conversations, CMU's Greenlighting Startups initiative was on hand. Greenlighting Startups is a portfolio of five business incubators designed to speed company creation at CMU. In the past 15 years, Carnegie Mellon faculty and students have helped to create more than 300 companies and 9,000 jobs, and the university averages 15 to 20 new startups each year.
Wahab Owolabi, assistant director of employer development at the CPDC and lead organizer of TechSpark, said, "We listened to what our alumni and the companies we work with were telling us, and thought, 'why not try to create an event as innovative as the people we are trying to connect?'"
Innovation was the word of the day. These companies thrive on cutting-edge ideas at the core of their formation.
"I enjoyed the smaller, low-key approach of the targeted audience," said Jose Cong, a recruiter with Nest Labs, a company co-founded by alumnus Matt Rogers. "Most startups tend to be lost in the traditional career fairs as students tend to gravitate toward the bigger names. TechSpark evens the playing field by giving the startups an opportunity to connect with students in a more intimate, technology-specific setting."
Students like Russell Kirmayer, a junior physics major who would like to work for a startup, shared enthusiasm for the unconventional structure.
"I was able to have more natural, intimate conversations with [employers] that allowed for a much better understanding of the companies, and hopefully their better understanding of me as a potential employee," he said.
This approach permeated the event, as many companies described their workplace culture as "laid back" and non-traditional. Braintree representatives stated they weren't seeking people looking to move into management because they "don't have that here."
By any account, TechSpark succeeded in its goals. Owolabi noted that he would be building on the ideas and feedback gathered to improve the event for next year.
Kevin O'Connell is assistant director for marketing and communications at the Career & Professional Development Center.
Daniel Bishop of Qualaris was one of more than two dozen company representatives who attended TechSpark.